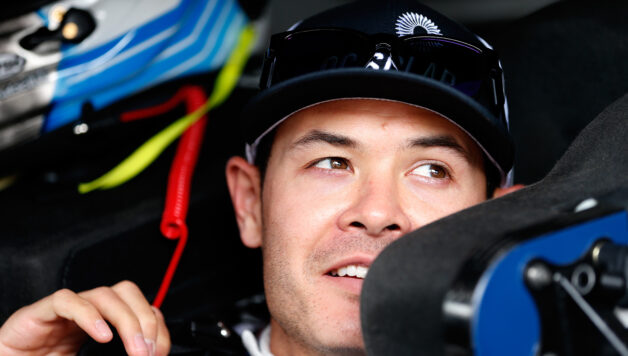 Kyle Larson's fast descent from NASCAR star to social outcast
The instant Kyle Larson realized the despicable word he uttered was spoken into a hot microphone during the Monza Madness iRacing event on Sunday night, he must have known he just put everything on the line.
His job, his respect from other drivers, his reputation; all of it was jeopardized. Larson saying that word into a mic that he didn't know was on is almost as bad as pointing a gun to your head and pulling the trigger to see if there are any bullets in it.
On Monday, NASCAR, iRacing, Chip Ganassi Racing, Chevrolet, Credit One Bank, McDonald's, Fiserv, and Advent Health disassociated themselves from Larson and his profane comments. On Tuesday, Ganassi officially terminated his contract.
The 27-year-old, who spent much of the 2010s as one of NASCAR's most promising stars and started off 2020 with an elusive win in the prestigious Chili Bowl Nationals, is now at rock bottom. Oh, what he wouldn't give to go in a time machine and travel back to Sunday evening to do it all over again.
But he can't. He shared an apologetic message on social media Monday to express his remorse for using the N-word.
— Kyle Larson (@KyleLarsonRacin) April 13, 2020
He said he could own up to the "unrepairable damage" he created. There will be fans that forgive him and think he is worthy of another chance. There will also be folks that will hold this incident against him for the rest of his life.
This entire development is not only tragic for Larson's career, but for NASCAR itself. NASCAR has tried for decades to shed the southern racism associated with stock car racing. Go to Darlington Raceway or Talladega Superspeedway and count how many Confederate Flags you see. Whatever that number ends up being is how many NASCAR would like to see torn into pieces.
But this story has gained national attention. Larson's name was among the top-10 trending Twitter topics in the U.S. at one point. And it only gave fuel to "NASCAR is a racist sport" fire. Ugh.
Another kicker here is that NASCAR finally had something great going for it. During this time of crisis in the world from the COVID-19 pandemic, NASCAR has used virtual races to fill the void, and it's been well-received by most fans. The eNASCAR iRacing Pro Invitational Series events are among the most-watched esports on American television broadcasts in history.
iRacing has brought normalcy to a fanbase that would otherwise be missing out on real racing. It allows NASCAR's stars to compete during the nationwide quarantine and showcase the excitement and realness of sim racing.
But two weekends ago, when NASCAR's Cup Series regulars competed at the virtual Bristol Motor Speedway, things got out of hand. Larson and Daniel Suárez played bumper cars to express their displeasure with each other during the race while Bubba Wallace rage quitted and ultimately cost himself a sponsor.
Many thought Blue-Emu's termination of its relationship with Wallace was a tremendous "oof" moment for NASCAR. But in retrospect, it's barely on the radar compared to Larson's blunder from Sunday.
iRacing was supposed to be innocent fun until the real races can continue. But now it's intertwined with controversy, and that's a shame. NASCAR had something great for three weeks, and now it finds itself losing one of its top drivers in the worst way imaginable.
So, what's next for Larson?
Tony Stewart has publicly said in the past that he would love to have the California racer at Stewart-Haas Racing. It could be a potential fit since SHR isn't a Chevrolet team. And if Clint Bowyer doesn't renew his deal after the 2020 season, the No. 14 Ford will be available in '21.
But it wouldn't be surprising to see Larson sit out for a while. It's hard to envision any organization wanting to associate itself with him right now.
Who might take over the No. 42 Chevrolet?
The good news for Ganassi is that it hasn't lost sponsorship of the car. Whoever goes to the No. 42 will need the blessing of sponsors, of course. The first name that comes to mind is Ross Chastain. He's still associated with CGR despite never running any of the 2019 Xfinity Series season with the team. When the FBI uncovered DC Solar's Ponzi scheme in late 2018, it robbed Chastain of sponsorship for a top-tier ride in the series.
This could be his chance to shine in the NASCAR Cup Series. He's been piloting the famed No. 6 Ford for Roush Fenway Racing — on real tracks and virtual ones — for almost two months in place of the injured Ryan Newman, but the team hasn't quite had race-winning speed. CGR won two races last year and had Larson in the Round of 8 during the 2019 playoffs. Ganassi's cars are simply faster than Roush Fenway's right now.
Whatever happens in the coming days, there is a lesson to be learned here; ALWAYS be mindful of what you say. It can and will come back to haunt you. No one wants to be the next Kyle Larson.
Photo: Brian Lawdermilk / Getty Images