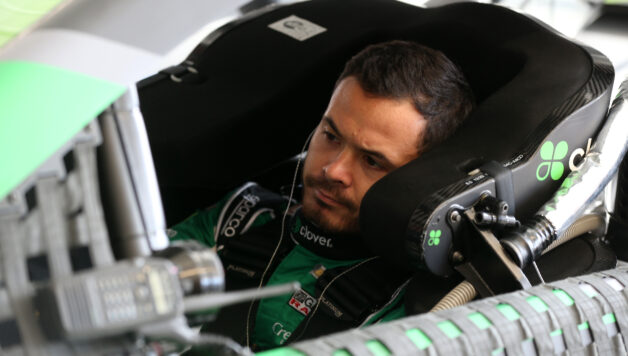 UPDATE: Kyle Larson suspended indefinitely by NASCAR for 'insensitive language'
On Monday, NASCAR said it would investigate Kyle Larson's racial profanity that was heard on a stream during the Monza Madness iRacing event Sunday night. Larson's team Chip Ganassi Racing has suspended the driver without pay.
Larson appeared to think he was unsuccessfully communicating with someone during the race, which featured several NASCAR and IndyCar drivers. The following is heard in this clip of the stream:
Larson said, "You can't hear me? Hey, n—."
Richard Childress Racing Xfinity Series driver Anthony Alfredo responded: "Kyle, you're talking to everyone, bud."
Aron MacEachern followed: "Yep, we heard that."
Ed Carpenter Racing and Carlin IndyCar driver Conor Daly said: "Yikes."
NASCAR stated: "NASCAR is aware of insensitive language used by a driver during an iRacing event on Sunday, and is currently gathering more information."
CGR stated: "We are extremely disappointed by what Kyle said last night during an iRacing Event. The words that he chose to use are offensive and unacceptable. As of this moment, we are suspending Kyle without pay while we work through this situation with all appropriate parties."
Larson, who is of Japanese descent and was a member of NASCAR's Drive for Diversity program in 2012, has not made a statement at the time of publication.
UPDATE: NASCAR says Larson is suspended indefinitely and must attend sensitivity training as directed by the sanctioning body.
"NASCAR has made diversity and inclusion a priority and will not tolerate the type of language used by Kyle Larson during Sunday's iRacing event," NASCAR said. "Our Member Conduct Guidelines are clear in this regard, and we will enforce these guidelines to maintain an inclusive environment for our entire industry and fan base."
Section 12.8.1.e NASCAR's Rule Book says "Public statement and/or communication that criticizes, ridicules, or otherwise disparages another person based upon that person's race, color, creed, national origin, gender, sexual orientation, marital status, religion, age, or handicapping condition" could "result in a fine and/or indefinite suspension, or termination."
UPDATE 2: Larson offers an apology:
— Kyle Larson (@KyleLarsonRacin) April 13, 2020
UPDATE 3: iRacing has indefinitely suspended Larson from participating on its service:
— iRacing.com (@iRacing) April 13, 2020
UPDATE 4: Larson's sponsor Credit One Bank "denounces the highly offensive language used by Kyle Larson during Sunday's iRacing event. We support the quick actions taken by NASCAR and the Chip Ganassi Racing Team to suspend Kyle indefinitely."
This story will be updated as more information about the incident comes out. 
Photo: Matt Sullivan / Getty Images