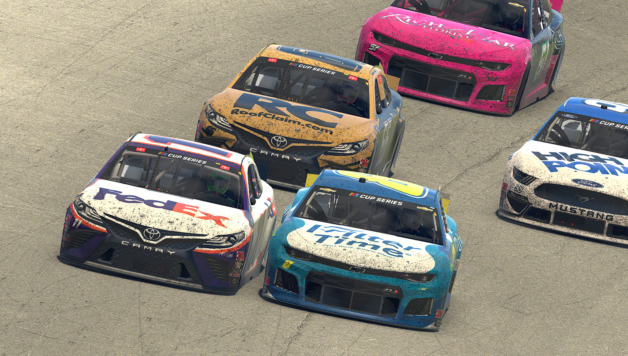 NASCAR's iRacing event at Virtual Homestead-Miami Speedway provides glimmer of optimism despite COVID-19 uncertainty
(Virtual) HOMESTEAD, Fla. — While the rest of the sports world idly waits to resume action, NASCAR took to the virtual pavement of Homestead-Miami Speedway via iRacing for an exhibition Cup Series race.
No, it isn't "real" racing. There were no championship points or money on the line. Thirty-five drivers — most of whom race in the Cup Series — competed from the comfort of their homes and their personal iRacing setups. No firesuits or shoes were even necessary. Just ask Denny Hamlin — he won Sunday's Dixie Vodka 150 in bare feet.
After several NASCAR industry folks iRaced at Atlanta Motor Speedway last weekend, the sanctioning body decided to get the platform on television. Spotters Kevin Hamlin and T.J. Majors organized last week's race; this week was a collective effort between NASCAR, iRacing, and Fox Sports.
Mike Joy, Jeff Gordon, and Larry McReynolds called the broadcast on Fox Sports 1, as they would normally. They explained how iRacing is more than just a game — it is a tool used by professional drivers around the world to practice laps at unfamiliar venues and prepare race-like setups.
Since cars had identical setups, it was a true test of iRacing skill. That's why drivers who don't typically get much time in the spotlight like Timmy Hill, Garrett Smithley, and Ty Majeski ran up front throughout the race while multiple-time champions like Jimmie Johnson and Kyle Busch struggled.
Most of the race was a battle between Smithley and Hill, who have a combined 819 iRacing wins. They're the veterans at this, and it showed.
Ultimately, Hamlin pulled off the win by overtaking Dale Earnhardt Jr. in the final turn. The Joe Gibbs Racing driver participated in a post-race teleconference call organized by NASCAR so the press could interview him.
"It's always fun when you win, but regardless, I mean, it was a great event," Hamlin said. "For the community … the NASCAR drivers to come together and put 20-something drivers on the racetrack with such short notice … and for it all to come together and have a great finish, I think it was definitely a success."
This iRace put NASCAR in the social media spotlight on Sunday afternoon. At one point, the race was the top-trending topic on Twitter. NASCAR successfully has taken advantage of this coronavirus hiatus as other professional sports leagues can't replicate their product through simulations.
"NBA players can't go play 2K and put it on TV and make it look like the real thing," Hamlin said. "You can't go play Madden and make it look like the real thing. There's so much animation.
"But iRacing's platform — this is something that really can gain a lot of traction simply because it's as real as it gets. I'm excited that this was just a first step and, hopefully, something that builds for years and years to come."
NASCAR's fans have had a generally positive response to the iRacing events held over the past week. The NASCAR Twittersphere — which can be toxic at times — seemed to appreciate that there were cars on a race track, even if it was just a digital simulation.
"I think that it definitely energized the industry … lots of people that are crew guys or crew chiefs or drivers in other series are talking about it right now," Hamlin said. "This certainly keeps our sport relevant as long as we keep it going. … I think it gets people excited about our sport, and hopefully, we can keep it."
NASCAR won't return to an actual track again for at least another six weeks — and that's probably being optimistic. European racing series have postponed or canceled events into June. Formula 1's marquee event — the Monaco Grand Prix — won't transpire in 2020. The 24 Hours of Le Mans has been rescheduled from mid-June to September. It seems likely NASCAR and IndyCar will be forced to act similarly.
With coronavirus continuing to spread throughout the world population, it might be a few long months until any sort of public event takes place again. But kudos to NASCAR, iRacing, and Fox Sports for putting together a broadcast for its fans. No, it's not the same as being at the track, hearing the deafening roar of stock car engines, and enjoying the aroma of burnt rubber and fuel. But it's something, and one should be thankful for that.
Photo: NASCAR Media Group