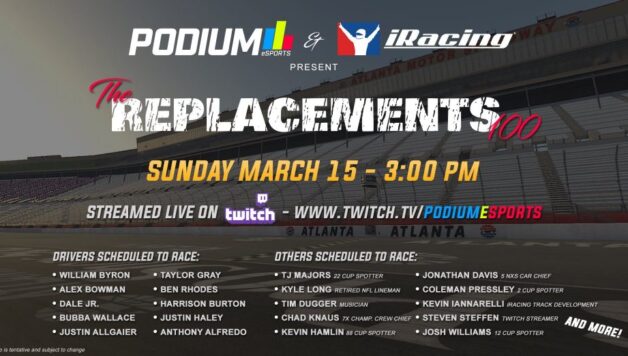 NASCAR salvages postponed Atlanta weekend with 100-lap iRacing event
When the COVID-19 pandemic forced NASCAR to postpone its events at Atlanta Motor Speedway and Homestead-Miami Speedway earlier this week, fans were left without any racing to watch on the upcoming weekends.
But Cup Series spotters T.J. Majors and Kevin Hamlin had a thought. What if they could organize a race that wasn't in-person — but through iRacing, the popular auto racing video game used by thousands around the world?
Hamlin, who spots for Hendrick Motorsports' Alex Bowman, ran the idea by teammate William Byron, whose career famously ascended through the virtual platform, on Friday. Within about 12 hours, "The Replacement 100" was conceived and featured drivers such as Bowman, Byron, Dale Earnhardt Jr., Darrell Wallace Jr., and Parker Kligerman.
"I never thought that we could have had the response we've had. … It's been great," Hamlin said before the race, which was live-streamed on Twitch. "T.J. has had a lot of people reach out that I didn't even know were on the (iRacing) service."
Richard Childress Racing Xfinity Series driver Anthony Alfredo participated as well. He suggested that it provided drivers who aren't in top-tier Cup rides the opportunity to impress viewers. If he can beat Cup guys in the game, perhaps he'll be able to do so on an actual track one day, as well.
"Not only would this be good for my iRacing resumé but my real-life resumé," he said during the broadcast.
Josh Williams, who spots for Ryan Blaney, started next to Byron on the front row and dominated the race. He won the event, which also had familiar garage members such as Chad Knaus (Byron's crew chief) and Jonathan Davis (Michael Annett's car chief in the Xfinity Series.)
Zack Novak, the 2019 eNASCAR iRacing Series champion, briefly spoke during the race stream as well.
"I expected the people upfront to be upfront," he said. "It's really cool to see this many people involved in this, and I've had a blast watching it. … It allows people that are involved in NASCAR that don't necessarily race the cars every weekend to participate.
"The real guys can give us a few tips just by watching them. … A really cool thing."
More than 21,000 people watched the race on Sunday afternoon. It was fun to watch as there were no championship points on the line, and it proved that people could make any negative situation turn positive. Perhaps the industry will do this again but at Homestead next weekend.
Photo: iRacing.com