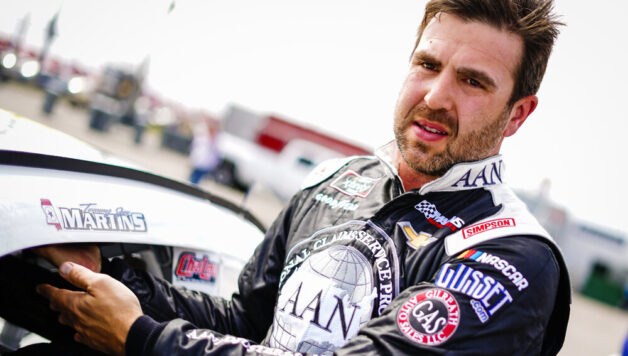 Tommy Joe Martins on restarting family team: 'This was something we always had on the backburner'
AVONDALE, Ariz. — When Tommy Joe Martins learned that he wouldn't be driving for Carl Long and MBM Motorsports in the 2020 NASCAR Xfinity Series campaign, he knew it was time to launch his backup plan.
Martins, 33, has been in professional stock car racing for more than a decade. He's competed in ARCA and NASCAR's Truck and Xfinity Series during his career. His family operated a team that ran in NASCAR's second and third-tier levels in the 2010s but was forced to close when sponsorship deals didn't come to fruition in December 2017.
For the last two seasons, Martins has competed in the Xfinity Series with stints at B.J. McLeod Motorsports and MBM on a partial schedule. He joined Long's organization in the middle of 2019 and thought he would return for 2020, but things didn't pan out. There are no hard feelings between Martins and Long.
How soon did Martins know it was time to pursue plan B — relaunching Martins Motorsports — for the new season?
"As far as how quickly I knew, this was something we always had on the backburner," Martins told NMMR. "One of the cars I ran for Carl last year was actually a car that we owned. The road course car was the car that we owned, and it showed that it was pretty competitive. It was something we had in our back pocket."
Martins' father Craig and co-owner Rodney Riessen invested in the commitment to restart the team. Several of Martins' sponsors, including AAN Adjusters and Gilreath Farms Red Angus, were on board with joining the No. 44 car for another year, as well.
"Did I think we'd be doing it on this scale? No. I thought maybe we'd be doing it on a limited basis," he said. "We knew this was kind of the fallback. We planned on it; I was preparing for it."
The team acquired several cars from GMS Racing, which suspended its Xfinity Series operations after the 2019 season. Martins Motorsports also has three cars from JGL Racing — another former Xfinity program. The JGL cars have Kyle Busch Motorsports chassis.
"We feel like we're in a good spot from an equipment standpoint," Martins said. "I don't really feel like we're lagging behind from there."
His goal is to become an Xfinity veteran similar to Ryan Sieg and Jeremy Clements, who also are apart of family-owned teams. It's common to see Sieg and Clements flirt with top-10 finishes most weeks, and it's a big deal for them since they are mostly independent of larger teams and OEM alliances.
Martins hasn't made any starts in the Cup Series during his career. At 33, he doesn't put much thought into it anymore. He's focused on building his team and earning results even better than what he did at Auto Club Speedway last weekend, where he notched his first top-20 of the season.
"No Cup team that's any good is going to look at me and say, 'That's the guy we have to get' at 33 years old, middle of the pack Xfinity guy. It's just not realistic," he said. "You see guys like Ryan Sieg and Jeremy Clements, who are roughly my age and have had more success in the series than I have. I look at them, and that's really what I want this team to be. Be competitive like they are around the top-10 and establish myself as a good, solid veteran in the series."
Photo: TommyJoeMartins.com
Note: Listen to the full interview with Martins at the link below. It took place on Saturday morning before the Xfinity Series race at Phoenix Raceway.