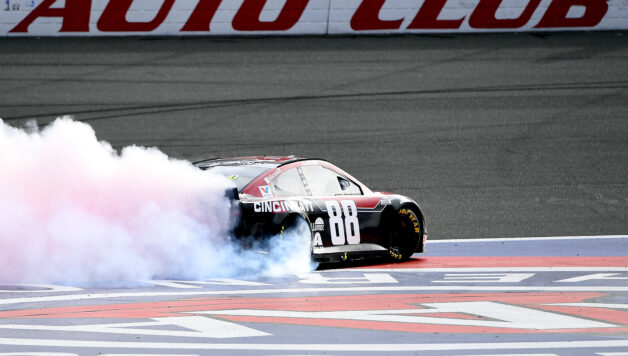 Ryan Blaney falls short again as Alex Bowman takes win at Auto Club Speedway
Sunday's NASCAR Cup Series race at Auto Club Speedway picked up right where it left off last weekend when Ryan Blaney and Alex Bowman looked poised to battle for a win in Las Vegas.
Ultimately, fans were robbed of an exciting duel between the two young drivers last week. Ross Chastain brought out a late caution, which led to a chaotic restart and a Joey Logano victory. Bowman's dramatic but late charge toward the No. 12 Ford was wasted.
Blaney and Bowman had the two strongest cars in Fontana again, though. Each driver won a stage and has plenty of reason to be motivated for the 2020 season.
First and foremost, Blaney has a new man atop the pit box. Team Penske made notable personnel changes during the offseason, and Todd Gordon became his new crew chief after spending seven years with Logano. He no longer wants to be the weak link who drives in the shadow of his Cup champion teammates.
It's also a contract year for the 26-year-old. It's not like he should fear for his job, though. He's still young enough to be considered one of NASCAR's rising stars. If 2020 is a successful season for him — and so far, it looks like it will be — he'll have more leverage when it comes to contract negotiations.
And if that isn't enough, he ran a Kobe Bryant-inspired paint scheme at the Southern California track to honor the fallen NBA legend, who died in a tragic helicopter accident in January. Body Armour, which sponsors Blaney, is a sports drink that the late Bryant invested $6 million. So, the company designed a purple and yellow paint scheme to pay homage. The two sports figures even met two years ago, and Blaney gifted Bryant with a Body Armour firesuit.
Blaney was running second to Bowman in the closing laps when he picked up a tire vibration, and he was forced to pit just before the white flag. He wound up 19th when the checkered flag waved.
The Penske driver can take solace in knowing that he's been the fastest driver on the circuit to start the season. He lost the Daytona 500 by inches. He could have won Vegas had there not been a late caution. And he was a third-place car at worst in SoCal. A bad pit stop in Stage 3 cost him two positions, and he was never able to regain the lead. But after three races, he leads the points standings.
"We led a little bit and ran pretty good. We just corded a right rear at the end," Blaney said. "We lost the lead there at the beginning of the third stage, and kind of got swallowed up, and the 88 got away and got gone. We needed to be in front of him. It is just the way it goes sometimes."
Like Blaney, Bowman — who topped both practice sessions this weekend — is in a contract year. The pressure is a little more intense for him, though. Chevrolet and Hendrick Motorsports are in the midst of a renaissance as the new Camaro nose has provided a much-needed performance boost. It looks like all four of its drivers can have a promising season. Bowman and hometown hero Jimmie Johnson were at the front of the field throughout the day.
But after years of clawing away from the bottom feeders of the Cup Series, Bowman has to perform. He's now a two-time winner in NASCAR's top level, but it will likely require multiple wins this season, and a deep playoff run for Hendrick to want to retain him for 2021. Bowman isn't one who brings much personal sponsorship, which has become the norm in the modern auto racing landscape. It wouldn't be shocking if he were to be replaced by someone who does unless he finds more success.
"The first (win at Chicagoland Speedway) was a really enjoyable experience, and then we sucked for six months," Bowman said. "We started this year so strong. I feel like I've got a lot on my side that I'm doing better. … Greg [Ives, crew chief] and the guys are just on point. We've unloaded the last two weeks, and I don't think we have had to make a change to the race car from the way it came off the truck.
"That makes my job a lot easier."
The Arizona native has started the season off with a 24th at Daytona, and a 13th at Vegas, but those results aren't indicative of how he has performed. Now, he'll carry the momentum to Phoenix Raceway — his home track — where he nearly won as the injured Dale Earnhardt Jr.'s substitute in 2016.
"[The team] worked their butts off," he said. "We've put a lot of effort into this new car, and it is obviously working out really well."
Photo: Stacy Revere / Getty Images