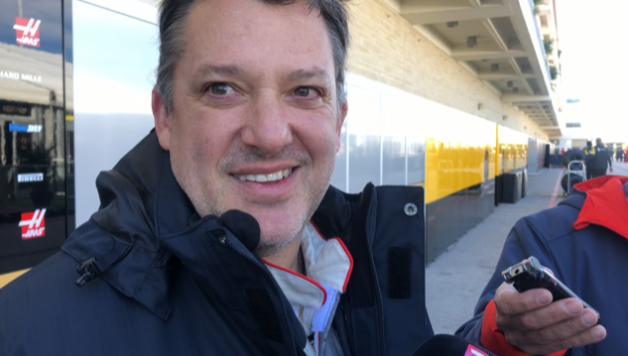 Tony Stewart enjoys stock car return, praises COTA's layout, and rips NASCAR, F1 promoters
AUSTIN, Texas — Three-time NASCAR Cup Series champion Tony Stewart drove a stock car for the first time in nearly three years on Thursday when he demonstrated a Stewart-Haas Racing Ford at Circuit of The Americas before the Formula 1 United States Grand Prix weekend.
The massive time gap from when he was last in a stock car and Thursday — along with the unknowns he faced at COTA — gave him no trepidation, though.
Stewart had never even seen an entire lap around COTA until this week. He drove simulator laps on iRacing a few days ago to get a feel for the shape of the circuit. But once he was on track and in the car, it all came naturally to him.
"After you've done it for 20 years, it's like an old pair of shoes," Stewart said. "It felt good to be in (a stock car) and hustle like that."
Stewart admitted that he felt an "itch" to keep driving around the track. He wanted to do more.
"I swore I'd never again when I retired," he joked. "We've talked a little bit about running an Xfinity Series race on a road course. I always enjoyed the road courses. To be able to come here today was a lot of fun."
Stewart believes COTA would be a suitable place for NASCAR to visit. NASCAR has been seeking more road courses to add the last few years. With the schedule changes coming in 2021, he believes the Austin circuit would be a great fit.
"But don't tell Eddie Gossage that. He'll get mad at me," Stewart joked. Gossage, the president of Texas Motor Speedway, was outraged last year when the 2019 F1 schedule was released. The USGP in Austin and the TMS playoff race, which will transpire less than four hours north of the state's capital in Fort Worth, will both run this Sunday.
"It's asinine," Stewart said. "I think there are two promoters who have their heads up their ass to book them that way. Why would you not book them on separate weekends and not have the opportunity to have people stay for a week and enjoy two totally different forms of major motorsports?"
NASCAR and F1 both raced on the same day in Texas in 2014, too.
"You'd think they'd have learned the first time," he said. "It shows how big of idiots they really are."
Gossage shredded F1 in August 2018 for making its USGP date the same as TMS' Cup playoff race.
"Shame on Formula 1 for doing this to the fans. Fans have recognized this as the NASCAR date on this weekend since its inception long before Circuit of the Americas was built. I would think a lot of fans, myself included, would enjoy going to both races.
"Now Formula 1 is making fans choose only one. Yet another bad call by Formula 1 showing their infamous indifference toward the fans."
COTA's capacity is 120,000, which is more than enough to host a NASCAR Cup race. But for it to host a Cup race, NASCAR likely has to drop one of its current tracks from the schedule. Also, NASCAR has toyed with the idea of shortening the grueling 38-weekend schedule, so that likely plays against the odds for COTA having a Cup race as well.
"I will give (NASCAR) a request to come to our trailer and talk with us this weekend," Stewart said. "I'm sure they'll ask me about it. I think it'd be very realistic and very easy for NASCAR to come here. The facility is already set up for it, obviously. And driving the track, there are definitely five legitimate passing opportunities. That's plenty to have a really good race here."
Note: Our John Haverlin tweeted several photos and videos of Stewart driving the No. 14 stock car. He took Haas F1 drivers Romain Grosjean and Kevin Magnussen for rides as well. 
Photo: John Haverlin / ESPN Albuquerque