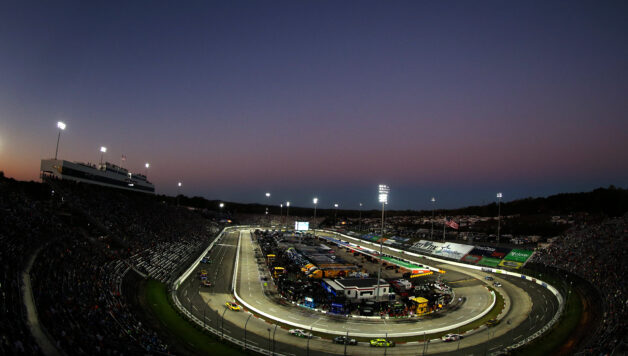 'Civil' at first, Martinsville playoff race ends with drama between Joey Logano, Denny Hamlin
At first, Martin Truex Jr.'s dominating Martinsville Speedway victory seemed like just another feel-good moment for the former NASCAR Cup Series champion, who is now seeking title No. 2.
The win was a redemptive one after last year's "won the battle but won't win the damn war" race, which Joey Logano won after bumping Truex out of the way in the final corner. It was also Truex's first triumph at the place that has eluded him throughout his career. It was his third short-track win of the year and his Cup tenure. And most importantly, he is now clinched for the championship finale at Homestead-Miami Speedway in three weeks.
But as Truex cheerfully spoke with NBC Sports for his celebratory on-track interview, there were two drivers on pit road that had nothing to grin about.
Enter Joey Logano and Denny Hamlin.
Logano was upset with Hamlin because of a flat tire he suffered after contact from Hamlin's No. 11. Hamlin was on his inside and sandwiched him into the front stretch wall as they came out of Turn 4 two abreast. Logano spun, and it brought out a caution with just under 40 laps to go. They were battling for top-five positions.
The two conversed on pit road, and it remained calm until Logano gave Hamlin a stern pat on the shoulder as he walked away. Hamlin was ready to fight the defending Cup champion, but crew members from Team Penske and Joe Gibbs Racing attempted to separate the drivers which ended up with a brawl among themselves.
"I got fenced down the straightaway and just went to talk about it," Logano explained. "I was a little frustrated by the situation, and I went down to talk to him and didn't really get the answers I was looking for.
"(Hamlin) just said, 'I ran you up in the wall, basically.' He wasn't as apologetic as I was looking for, and that probably escalated the situation too much. I shouldn't have shoved him. For all the kids watching, that wasn't the best thing to do, but I was frustrated, tempers are high. It's the Playoffs, so that's what happens."
Logano's acknowledgment of his ill-advised shove supports the viewpoint of Hamlin, who said everything was mannerly until the physical contact.
"We were having a discussion, and everything was civil, and then like Joey does, he gives a little push and runs away," Hamlin said. "That's Joey. I mean, he said, 'You want to go?' I said, 'Yes, I'm here,' but then he runs away."
Logano and Hamlin have had their disagreements before, but none have been as violent as Sunday night's episode. Hamlin has had feelings of frustration towards Logano for three weeks now. When Hamlin was leading at Dover earlier this month, Logano, who was 24 laps down, got in his way, and it ultimately cost the JGR driver a potential win.
"We did talk," Hamlin said about the pit road confrontation. "Yeah, I told him that it was my fault. I came up the racetrack. We made contact, obviously."
Hamlin admitted that he still had negative feelings about the Dover incident, though.
"I had a discussion with him over two to three times about him blocking me and what is he was doing at Dover," he said, "That's the other thing. That's a discussion that men have, but he handles it differently because he's immature."
Logano rebounded to finish eighth. Hamlin wound up fourth. Both men are still above the cut line for the Championship 4.
Photo: Brian Lawdermilk / Getty Images