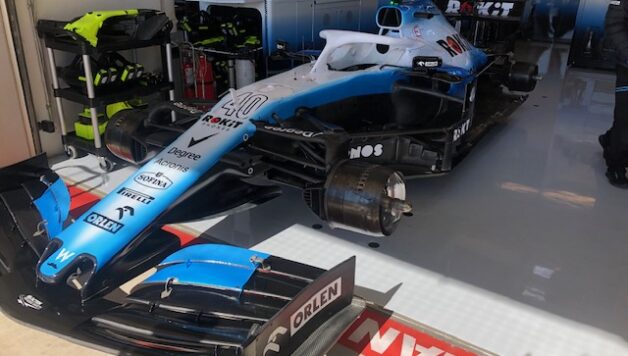 What's it like inside an F1 paddock and working for a team? Williams Racing showed us
AUSTIN, Texas — ROKiT Williams Racing is one of Formula 1's most iconic teams. It has won nine Constructors' Championships, seven Drivers' Championships, and 114 Grands Prix, which is third all-time behind only Ferrari and McLaren.
But the team finds itself in dark days right now. Williams is last in the Constructors' standings. The team has one championship point courtesy of veteran driver Robert Kubica, who earned it at the wet and wild Grand Prix of Germany. And rookie George Russell is having what is undoubtedly one of the most frustrating years of his young career.
But don't let the organization's 2019 performance take away from the fact that it has enjoyed immense success. Williams has the smallest budget in the paddock right now at approximately $130 million. It might be crazy to think of $130 million as a tight budget, but compared to Mercedes and Ferrari, who are spending nearly $500 million, it is rather tiny.
However, make no mistake: It is still a big-time operation. Williams, like each F1 team, has 60 people at the track. It takes days, sometimes weeks, to ship equipment from England to oversea circuits. Teams must set up dozens of computers that receive a variety of data from the cars.
NMMR went for an exclusive tour of the Williams paddock on Thursday, which was guided by the team's Head of Technical and Innovation Partnerships Al Peasland. Cyber protection company Acronis arranged the tour.
Peasland said the team has "duplicates" of all the equipment needed for a race weekend. For example, at the beginning of the season, two of the first three locations F1 visits are Australia and China.
The first race is in Australia, and teams ship equipment on cargo vessels, which can take over a month to arrive at the destination. Then there is a second cargo ship needed, and this one is loaded with identical items necessary for a Grand Prix weekend. But the second ship is headed for Shanghai.
And since each paddock building is unique at all the tracks. Teams must plan how to organize the walls and how to store items. Essentially, it is one enormous logistical headache if not executed properly. Even when it is done correctly, it still requires a tremendous amount of human labor and of course, money.
Nicholas Latifi, the Canadian Williams reserve driver, is at Circuit of The Americas. He participated in Free Practice 1 in place of Russell. Latifi finished second in the Formula 2 championship and is hoping to land a ride on the grid in 2020.
Note: NMMR sat down with Latifi and Peasland for 20 minutes on Thursday afternoon to discuss what it's like working for an F1 team, how Williams hopes the 2021 regulations will help improve the competition, and where their love for F1 came from. The following Q&A has been condensed with the intent to omit superfluous conversation.
With Robert Kubica leaving Williams after this season, does that open a seat for you with the team in 2020?
Latifi: "The fact that Robert is leaving, it gives an extra seat, and there are only 20 available in Formula 1. It's a very exclusive club to get into. Nothing to announce yet, though."
Do you like to see new regulations as a driver yet to make his F1 debut?
Latifi: "Definitely. Especially when you are coming from junior series, all the cars are the same for the most part. … So you're used to that. It's more on the driver than the seat. … Formula 1 has been much more equipment-dependent compared to pure driver skills. It's very encouraging for me as a driver hoping to get into Formula 1."
Why are teams looking to hire younger drivers in this age of racing?
Latifi: "Ten or 15 years ago, I don't think that would have been the case with young drivers coming in. … I think these guys have shown that young drivers can get the job done. Sure there is a bit of risk from the larger teams for signing with younger drivers because there is a big unknown. The results have said a lot about young guys coming into Formula 1. They've shown the pace, but that doesn't always mean you can get the job done. Teams are starting to put more faith in the drivers and youngers drivers, I wouldn't say more prepared, but the preparation is a bit different. There's obviously much more going on back in the factory with simulators."
How does the cost cap help the "Formula 1.5" teams?
Latifi: "Just in general, the whole goal of the regulations is just to close the gap. There are teams that spent way more than that; there are teams that spent just about that; there are teams that spend less than that. Hopefully, if it works correctly, it should bring us all together. It should be a big benefit to the teams that are spending less. Hopefully, it should hurt the teams that are spending more. That's the goal of it essentially."
Peasland: "It gives you the opportunity to be more creative. It's not just about throwing money at the problem to get the edge. It's about being the smartest and most creative. If every team had the same vehicle, it would be about that team that kind that little extra bit from the car. … Hopefully, it gives teams like ourselves with smaller budgets the opportunity to go fight the big boys."
Latifi: "It's not who could spend the most money; it's who could spend the money the best."
Do you ever still look wide-eyed at what your jobs are working in an F1 paddock with the Williams F1 team?
Peasland: "I get to tour partners at the track and the garage. So the moment I start to take it for granted, or it becomes a bit normal, then I immediately have a guest who's just starry-eyed and loving it. It just reminds me every time that this is really cool. And the Williams brand is so iconic in the sport. It really is a privilege to be a part of it and to be representing the brand."
Where did the love for F1 begin for you?
Latifi: "As a kid, I used to go to the Montreal Grand Prix. I actually lived in Toronto, and I have some great memories of going with my family and making a weekend out of it in the summer. But I kind of stumbled upon racing. I didn't come from a racing family. I only started karting when I was 13 years old. I was very late compared to almost everyone in this paddock. … I had some natural ability at it, and when I did my first race, I was hooked on it, and it progressed. This is what I want to do."
Peasland: "I'm from a different background, obviously. I'm not racing cars, unfortunately. I'm a design engineer by trade. I worked in aerospace and automotive, and I just kind of happened to end up in Formula 1. You find within one week of working with a Formula 1 team that you have to enjoy the sport.
"There are very few industries you work in where you get to see people you work with on TV on the weekend. You get to see the problems you've designed to beat on a world stage. … I've been in Formula 1 now for 15 years. I left for a few years, and then I realized it was in my blood, so I managed to come back in. It's been a very different route. I was lucky. I didn't have to work up the ranks. A lot of engineers do. I landed straight into F1. Once you're in it, it's in your blood.
"I worked for Red Bull Racing for 11 years. … I came in when they were Jaguar Racing and was with them when they were at the back of the grid and when they became four-time world championships. So I've been on both ends of the spectrum. I'm here now. This is a very different team from Red Bull, and in a good way."
Why do many North American kids who aspire to be open-wheel drivers look to work up the ranks of Formula 1? Why don't you think some choose IndyCar as their first career path?
Latifi: "In North America, we have our own series. We have IndyCar, and we have NASCAR. We have more people in North America who grow up karting and gravitate toward that because it's where they're from. It's more known, and in Formula 1, there are only 20 seats. To do that, you have to go race in Europe, and it's a more exclusive club to get into. It's much harder. It's a completely different kind of racing. Formula 1 and IndyCar are pinnacles in their own respective thing, but they're also different. Same thing with NASCAR. What interests the driver? I knew for me; I want to pursue Formula 1, so my first year of car racing was over in Europe.
"To get to Formula 1, you have to race in Europe. Maybe in the past, you could (do it differently), but nowadays, I don't see it possible at all for any driver doing any of the IndyCar junior series to get to Formula 1. It just won't happen."
Photos: John Haverlin / ESPN Albuquerque