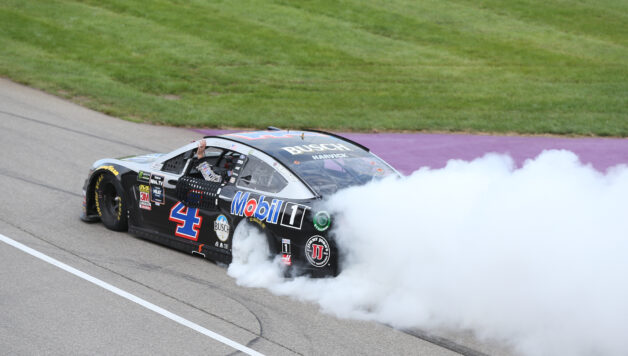 Weekend review: NASCAR, IndyCar, sports cars, and the Knoxville Nationals
"Happy" heating up at right time
After the eight-win NASCAR Cup season Kevin Harvick enjoyed in 2018, no one could have foreseen the Stewart-Haas Racing veteran going winless in the first half of 2019.
But that's precisely what happened. SHR was arguably the best team last year as all four of its drivers won at least once and they all made it to the Round of 8 in the postseason. But it took the team 20 tries to win this year with Harvick getting the first victory at New Hampshire last month.
Now that he's won a second time in a four-race span, it's time for the championship contenders to step up their game. Harvick and the No. 4 team are only going to get better as the playoffs near, and that's a scary thought if you're a Joe Gibbs Racing or Team Penske driver.
Yes, it was a fuel mileage win, but so what? That means the team played the strategy perfectly. Harvick wasn't the fastest car all day, be he and crew chief Rodney Childers know how to maximize their race. Pit stops are historically the only weakness for the No. 4 crew. But they were on it on Sunday, especially after suffering a flat right-front tire early in the race. When the team is firing on all cylinders, there's almost nothing that can stop them.
Johnson, Bowyer struggles continue
If you're Ryan Newman, you have to be somewhat happy with a 12th-place finish at Michigan.
Newman is up against Clint Bowyer, Jimmie Johnson, and Daniel Suarez for one of the final playoff positions. Johnson's day was ruined early after hitting the wall and finishing 34th while Bowyer wrecked in Stage 3 and ended up 37th.
Suarez earned a top-five, but he's still on the outside of the cutoff. However, only six points separate him and Newman. With Bowyer and Johnson finding trouble consistently, the battle between Suarez and Newman looks like it will get down to the wire in the final weeks before the postseason.
Speaking of Johnson …
The Ryan Blaney vs. Jimmie Johnson saga has reportedly come to an end.
The RacinBoys Network reported that Blaney brought a few beers over to Johnson's motorhome on Friday night and the two talked things over after their Watkins Glen run-in.
Johnson had harsh words for Blaney last week, saying that he was "quivering" and "scared shitless" when they talked on pit road. Blaney went as far as saying he lost some respect for Johnson after hearing his remarks, but the two have reconciled.
"In my eyes, it ended really well," Blaney told RBN. "Jimmie is a good friend of mine. It's just the whole week has been blown up — blown out of proportion a lot — for sure. I got his side and said I didn't appreciate what he said about me afterward and explained it. And I was fine with it."
Cindric wins second straight Xfinity race
Team Penske protege Austin Cindric won the Xfinity Series race at Mid-Ohio on Saturday. It was his second consecutive win in the series. He earned his first career victory at Watkins Glen International last weekend.
The 20-year-old is the fourth driver to win multiple races in the second-tier NASCAR division. The "Big Three" of Tyler Reddick, Christopher Bell, and Cole Custer have combined to win 13 of 21 races this year, and all three are favorites to be in the championship battle at Homestead-Miami Speedway in November.
But who could be the fourth? Cindric? Justin Allgaier? Chase Briscoe? Right now, Cindric has the momentum. But Cindric is known as a road course ace. He's shown signs of weakness on the ovals, which is where Briscoe and Allgaier might be better.
But regardless of who makes it to Homestead, one thing is clear: this season's competition in the Xfinity Series has been the best it's been in years.
Knoxville Nationals sees emotional first-time winner
After sprint car driver Jason Johnson died in a racing accident last year, Johnson's widow chose to keep his team going and selected David Gravel as the new driver of the No. 41 car.
Earlier this year, Gravel and NASCAR legend Jeff Gordon developed a friendship at the Chili Bowl race in Oklahoma. This led a business opportunity with the longtime sponsor for Gordon, Axalta, to join Gravel and Johnson's team for the world-famous Knoxville Nationals sprint car event.
In their first attempt together, Gravel won the race on Saturday night. Gordon was there to celebrate, as was Johnson's family.
https://twitter.com/AxaltaRacing/status/1160417753788030976?ref_src=twsrc%5Etfw%7Ctwcamp%5Etweetembed%7Ctwterm%5E1160417753788030976&ref_url=https%3A%2F%2Fwww.nascar.com%2Fnews-media%2F2019%2F08%2F11%2Fdavid-gravel-claims-emotional-knoxville-nationals-win%2F
McLaren forms IndyCar partnership with Arrow SPM
After McLaren Racing was humiliated with a failed attempt to make the Indianapolis 500 earlier this year, it seemed the team would focus on its Formula One program and not be concerned with joining the top American open-wheel series.
But the whispers of the British team joining IndyCar wouldn't evaporate as the summer went on. It was clear that if McLaren were to join the IndyCar paddock again, it had to be as a Chevrolet team. Honda still has hard feelings over the way things went when they were a coalition in Formula one a few years ago.
But who would McLaren partner with? Not Carlin, who they missed the 500 with. Powerhouse Team Penske was not a viable option either. The only other Chevy team would be Ed Carpenter Racing, but there was no sign the team was interested in a merger.
In a strange twist of events, Arrow Schmidt Peterson Motorsports decided to align with McLaren. Arrow is a sponsor for both teams, but SPM will be forced to sever its ties with Honda prematurely.
Honda and SPM were supposed to be together for 2020, but that deal will be terminated at the end of this season. The Arrow McLaren Racing SP team will field two full-time Chevys with the driver lineup to be determined.
James Hinchcliffe is reportedly staying with SPM, and that will lead to a demise in his personal services agreement with Honda. Several names being considered for the second car are Colton Herta and Patricio O'Ward. The team expects to field a third car for the 104th Indy 500. Whether it is Triple Crown hunter Fernando Alonso or someone else in the vehicle remains to be seen.
Rick Ware Racing headed for sports cars
NASCAR team Rick Ware Racing will expand to the Asian Le Mans Series and the IMSA WeatherTech SportsCar Championship in the coming months.
The team plans to field two Ligier JS P2 Nissans in the ALMS and another LMP2 in IMSA. Team owner son Cody Ware is expected to be a "fixture" with the team.
RWR is a backmarker in NASCAR, but don't expect them to be boat anchors in endurance racing. The costs are fractional compared to stock cars, and that will allow the team to be competitive in this new discipline.
"As our sponsors crave even more social media and content, as well as hospitality, the road racing has become very justifiable," Rick Ware said.
"We are excited to transition many of our NASCAR Monster Energy Cup Series sponsors, as well as cultivate new ones. Between the two I feel like RWR is covering the complete spectrum of demographics and potential sponsor needs."
Photo: Matt Sullivan / Getty Images