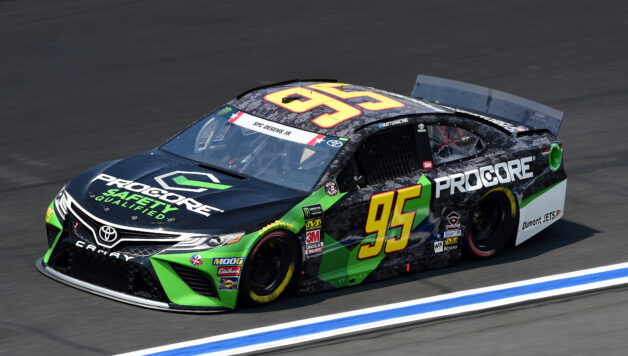 The cruel business we call 'racing' takes Matt DiBenedetto as its next victim
"Does Matt DiBenedetto deserve to race with Leavine Family Racing?"
Look at the NASCAR Twitter community on any given day, and it's a debate you'll definitely see. There will be arguments that support him staying in the No. 95 Toyota for another year and there will be naysayers who claim he hasn't proven enough to warrant another shot with the team.
Sure, DiBenedetto has given LFR the best season of its NASCAR Cup tenure with four top-10s and two top-fives in 23 races this year. He also led a quarter of the Daytona 500 six months ago.
Aside from LFR, he's earned top-10s with backmarker teams such as Go Fas Racing and even the now-defunct BK Racing.
On the other hand, he's never finished better than 29th in the standings. He's never won a national level NASCAR race. He's never started from the pole, and his average finish in 2019 is 20th.
It's tough to gauge where DiBenedetto's talent range truly lies. He was with some really great programs early in his career. In his late teens, he was winning K&N Pro Series East races in Joe Gibbs Racing Toyotas.
But he couldn't equate that success to the Xfinity Series in seven tries with JGR nearly 10 years ago when he was still developing his craft. That led to him joining some really slow Xfinity teams that hired its drivers to start-and-park over the next few seasons. Those days were dark but it kept him in the sport.
In 2015, he began running full-time for BK in the Cup Series. He remained with the team for two years before switching to Go Fas, where he stayed until the end of 2018. It was easy to forget he was in the field sometimes because the majority of fans aren't paying attention to the guys running 25th or worse every week.
But DiBenedetto has become a fan favorite over the years. He's dubbed "The People's Champ" and has grown a cult following on social media, mainly Reddit. Each time DiBenedetto had a good finish, his supporters would always say he needs a better ride to showcase his talent.
Before the 2019 season, he got that better ride, sort of. Joining LFR was a step in the right direction because it had just aligned with Toyota and Joe Gibbs Racing.
It's a similar relationship to the one Furniture Row Racing had before it shut down. But FRR was getting a lot more technical support from JGR than LFR has. In other words, LFR was never going to be as fast as FRR — at least not in 2019.
DiBenedetto put up some mediocre results in the first half of the season. But he's had a respectable summer stretch that began at Sonoma Raceway, where he finished fourth. Since then, his results are 27th, eighth, 16th, fifth, 17th, sixth, and 20th. He's clearly gotten better, and the debate of whether he deserves his ride with LFR raged on.
But the truth is, it doesn't matter if he deserves it or not. Talent will only get you so far in today's business model. If you don't have sponsors, you're going to get replaced by someone who does. Go look up how Matt Kenseth's tenure at JGR ended and let me know if you see any similarities.
So when the news broke on Thursday morning that DiBenedetto won't be in the No. 95 in 2020, it wasn't a surprise. JGR has a superstar in the making with Christopher Bell, and Toyota heavily backs him. Since JGR's four cars have no openings for next year, the best the team could do is place him with the satellite team until something opens.
DiBenedetto said the news was "devastating." But he will not hold any grudges against LFR team owner Bob Leavine. After all, it wasn't his decision to give DiBenedetto the boot. It was JGR's and Toyota's.
DiBenedetto has fought to keep himself in the sport for a decade, and that fight will continue for at least another year. Could he stay with Toyota and end up in one of JGR's Xfinity cars next year? Does he pursue the vacant position at Front Row Motorsports? Who knows.
The debate of whether DiBenedetto deserved another year with LFR probably won't dissipate among the fans, but it should. It's futile at this point. He won't be back in the No. 95 and that's all there is to it.
It doesn't matter if a driver is deserving of a ride or not. Because if he or she doesn't have the dollars on their side, they're not getting the seat. It's sad, but that's business. That's racing.
Photo: Jared C. Tilton / Getty Images