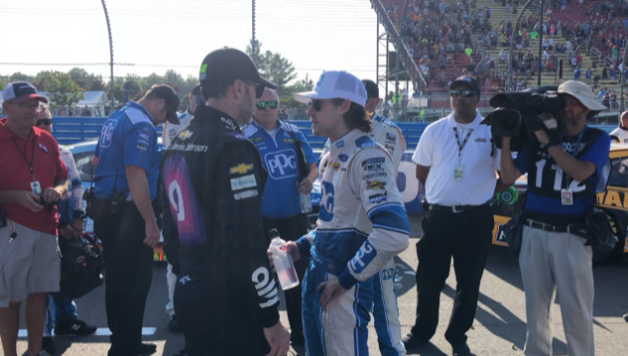 Jimmie Johnson thinks he made Ryan Blaney 'scared' from post-race discussion
WATKINS GLEN, N.Y. — Jimmie Johnson wasn't happy with Ryan Blaney after Sunday's NASCAR Cup race at Watkins Glen. Blaney spun Johnson through the inner loop in the final stage, but it wasn't intentional, according to Blaney. He said it was nothing more than a racing incident.
Johnson, on the other hand, took his anger out on the Team Penske driver. After their pit road conversation, Johnson said Blaney seemed to be "quivering" and "scared shitless."
Jimmie Johnson was pretty upset with Ryan Blaney after their on-track run in. After their talk here, Johnson said Blaney was "quivering" and "scared shitless" because he didn't know what to say during their conversation. #nascar pic.twitter.com/N3Zpd4x9Cl

— John Haverlin (@JohnHaverlin) August 4, 2019
Blaney didn't appear to be either, though. He spoke back to Johnson during their conversation about his viewpoint on the incident.
"He's angry. I can't blame him for being angry," Blaney said. "He's trying to get into the playoffs right now and have good runs. Trust me, the last guy I want to spin out is Jimmie. We always race great together. I've looked up to him for a long time and still do."
Pit road tends to be loud after a NASCAR race. There is a lot of equipment being loaded up and a grandstand full of fans cheering the winner. Johnson said he couldn't hear what the mild-mannered Blaney was trying to explain.
"I couldn't hear what he was saying. His lips were quivering so bad that he can't even speak. I guess he was nervous or scared or both. I don't know what the hell the problem is," Johnson told NBC Sports. "He just drove through me and spun us out, and it clearly has big implications on what we're trying to do for the playoffs right now. Clearly not happy with his actions there."
Johnson is tied with Ryan Newman for the 16th playoff spot. He needs to have a strong final month of the regular season or else he could miss the postseason for the first time in his career.
He's frustrated with how 2019 has transpired. And finishing 19th at the Glen certainly didn't help.
Blaney finished fifth after starting from the rear. Along with Chase Elliott, who dominated and won the race, he would likely be a candidate for a "Driver of the Day" award. Gaining 32 positions in one event is pretty impressive. He's 10th in the points standings with four races until the playoffs begin.
Photo: John Haverlin