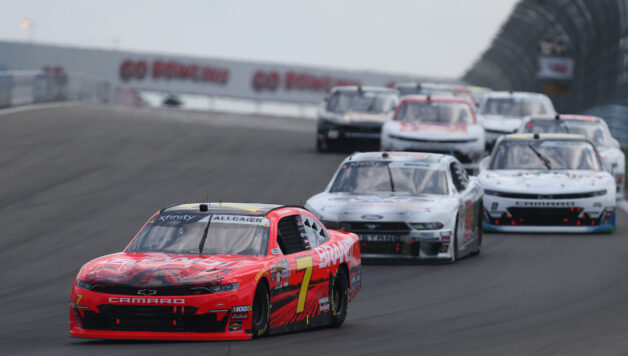 Justin Allgaier's intent to retaliate on Ross Chastain was fair. The outcome wasn't
WATKINS GLEN, N.Y. — After Ross Chastain drove through Justin Allgaier at the inner loop early in the NASCAR Xfinity Series race at Watkins Glen International, it was only fair for Allgaier to attempt some form of payback.
A few laps later, Allgaier shoved Chastain up the groove in the Carousel turn, but it resulted in a tremendous crash for Chastain. It ended his day, and the tightly budgeted JD Motorsports team now has a lot of hours in the shop to look forward to this week. With two more road courses on the schedule this month, the team probably needs to use that car again.
When Allgaier wrecked, he didn't suffer enough damage to affect his car significantly. He ended up finishing third when it was all said and done. Chastain was on the wrong end of the deal in 33rd.
Allgaier didn't mean to put Chastain sideways into the barrier with such a violent impact, though. Think of when Carl Edwards flipped Brad Keselowski at Atlanta Motor Speedway in 2010. Edwards intentionally made contact but was utterly shocked to see Keselowski's vehicle go airborne.
"At some point, you get to a point where you're tired of getting run into. So I ran back into him, but I had no intention to put him in the wall. I wanted to spin him out for sure," Allgaier said. "I hate it for Johnny (Davis, Chastain's team owner) and that 4 team because obviously with the budget that they're on, they don't need any wrecked race cars.
"On the flip side of it, he knew what he was doing when he got into the bus stop and wrecked me on purpose. Even when I caught him back, he slowed way, way down. He knew that I was mad at him. You can't race like that and not have something come up."
Allgaier cited an incident at Daytona last month and Las Vegas last year as previous times the two have clashed. The JR Motorsports driver admitted that he's had "a rocky relationship" with Chastain during his career.
Chastain didn't elaborate much on his opinion from the crash. "I didn't expect to get wrecked like that in a NASCAR national series event. Just racing hard and mistakes on all sides," he said.
Allgaier believes he has gotten the last word in their rivalry. He told reporters that he has "finished it," but it's hard to imagine that Chastain would agree.
Photo: Matt Sullivan / Getty Images