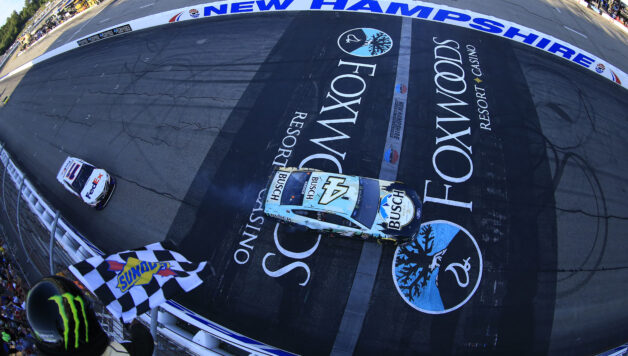 Battle for playoff spots intensifies as Kevin Harvick wins at New Hampshire
LOUDON, N.H. — Stewart-Haas Racing is no longer a winless team this season as Kevin Harvick won the Foxwoods Resort Casino 301 at New Hampshire Motor Speedway.
Harvick had the most points of any driver that didn't already have a win before Sunday's event, so there was no real danger for him to miss the postseason, but he's now officially playoff-bound.
His teammates Clint Bowyer and Daniel Suarez need to have a robust six-week stretch, though. Being involved in accidents at the one-mile oval didn't help their cause. Suarez got caught up in a wreck with Daniel Hemric and finished 19th. Bowyer tangled with Martin Truex Jr. in a three-wide battle after a restart. He finished 20th.
Truex said Bowyer's aggression was "not a smart move" for someone on the bubble.
Suarez is the first man on the outside of the playoff grid. He's 17th in the standings and 17 points behind Bowyer. Last year, SHR had all four of its cars in the playoffs, and they each made it to the Round of 8. It doesn't look like that will happen this time around again, though.
With a little bit of a gap on Bowyer are Ryan Newman and Erik Jones. Both finished in the top-10. Newman said his seventh-place finish felt like a win after having to start from the rear in a backup car.
"Honestly, it was the most fun I've had all year in a racecar," Newman said. "And that's mostly because we had a competitive Oscar Meyer Ford, being in a backup car starting last and having the finish that we did. … Today was kind of like a win for us to fight back from all the things that we did."
Newman also dealt with an engine turning sour, making his result even more impressive. Jones also enjoyed one of his best races of the year by tying a season-best third-place finish.
"It was kind of a sloppy day in my opinion, but it was a good day," Jones said. "We got good stage points in the first stage and finished well at the end. … All-day, I felt like we were close, we just needed to get upfront and never quite did it. Never quite got the lead, but we were there. Again, up in the top-five, you can't complain, especially with the points we gained today."
Jones is 14 points to the good in the playoff hunt. He's the only Joe Gibbs Racing driver without a win, but it looks like one is coming soon with the way he's been running as of late. The No. 20 driver has seven top-10s in the last 10 races.
Jimmie Johnson, Paul Menard, and Ricky Stenhouse Jr. round out the top-20 in the standings. Johnson is at risk of failing to make the playoffs for the first time in his career. He's been in it since the inception of the Chase in 2004.
Johnson finished thee laps down in 30th after losing power steering and having a water pump problem at the end of Stage 2. "A rare and unfortunate mechanical issue for us today," he tweeted after the race.
Johnson is tied with Suarez for 17th in points. Menard is 19th and 60 points behind Bowyer, which doesn't necessarily mean it's time to panic, but he does need to run in the top-10 more often and earn those precious stage points.
Brian Pattie, Stenhouse's crew chief, says he isn't quite in desperation mode yet, but the No. 17 team can see its playoff hopes fading quickly. Stenhouse crashed before halfway and finished 36th.
With a 77-point deficit, Stenhouse probably needs to win to make the playoffs. Although he's become notorious for his aggression on superspeedways, he usually runs pretty well at them. But the 400-miler at Daytona International Speedway has come and gone, and that was the last superspeedway race before the playoffs. He'll have to find a way to win on an intermediate track, a short track, or a road course.
Everyone below 20th definitely needs to squeak out a win. Austin Dillon, a playoff driver in 2017 and 2018, is 22nd in the standings. He had a flat tire early on and hit the wall on Lap 45 making it the third consecutive time the Richard Childress Racing driver finished outside the top-30.
Next week's event is at Pocono Raceway followed by Watkins Glen. The series takes a week off after the Glen and then goes to four unique ovals (Michigan, Bristol, Darlington, and Indianapolis) before the playoffs begin in Las Vegas.
Photo: Chris Trotman / Getty Images for NASCAR