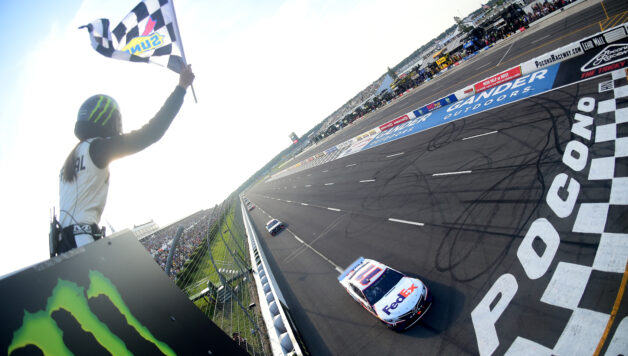 Fuel gamble, late cautions power Denny Hamlin to fifth career Pocono win
Denny Hamlin's win at Pocono Raceway turned out to be a matter of skill and luck on Sunday.
Hamlin won his third race of the year by conserving fuel and holding off Joe Gibbs Racing teammate Erik Jones. But two cautions in the final 10 laps helped this year's Daytona 500 champion save gas. Without the yellows, the Gander RV 400 probably would have had a different winner.
Most of the leaders pitted on Lap 115 and crew chiefs were prepared to go the final quarter of the race without stopping again. The fuel window at the 2.5-mile track is about 35 laps, though, which would have made a fuel run to the finish a nearly impossible task.
However, a late caution occurred when Josh Bilicki stopped on the backstretch apron between Turns 1 and 2. It made the fuel gamble seems less risky — until another yellow flag waved after Ricky Stenhouse wrecked Kurt Busch on the ensuing restart. That led to three extra laps and an overtime finish.
But Hamlin saved enough while Jones finished second and Martin Truex Jr. finished third. A win would have been a tremendous relief for Jones, who is yet to lock into the playoff grid. He's currently 13th in the standings and 27 points ahead of the cutoff.
"The 20 group has been on it," he tweeted after the race. "Proud to see how far we've come the last three months."
Jones has finished in the top-three for three consecutive races. In the last 11 events, he only has three results outside the top-10.
Meanwhile, "bubble" driver Daniel Suarez fell a spot to 18th in the standings. He was penalized on the penultimate restart for purposely falling back and then accelerating before the car ahead of him did to gain an advantage. He finished 24th after starting seventh.
After the race, he and Darrell Wallace Jr. had an animated conversation on pit road. Although it seemed to be a possible argument over a hand gesture made by Wallace during the race, both drivers said there was no issue between them.
Bubba Wallace and Daniel Suarez had an animated discussion post race on pit road. Both said there was no issue between them. pic.twitter.com/Ii4JwmBAfI

— Jordan Bianchi (@Jordan_Bianchi) July 28, 2019
Suarez, now in his third year in Cup, must be feeling the pressure. He's frustrated that he hasn't won yet, and losing ground on the playoff field isn't helping his case. The 27-year-old is with Stewart-Haas Racing — a proven team that is capable of winning championships. Although he's probably safe for 2020, he's going to have to start clicking off wins, or he'll be out of his ride after next year.
While the race itself was entertaining, the NBC Sports broadcast left a lot to be desired. NBC used a radio-style broadcast and used different announcers in each turn. It probably would have been OK if Dale Earnhardt Jr. and Jeff Burton didn't sound like they were trying to scream over the sound of the cars the whole time.
But Earnhardt and Burton were not pleasant to hear during the race. It's anyone's guess if they were yelling to try to add excitement to the competition or if it's because they were trying to hear themselves over the immense volume of the cars. Regardless, it came off as amateur and proved that it will take a few more reps to sound like experienced professionals.
Lead announcer Rick Allen isn't off the hook either. He made the careless mistake of saying Jones was looking for his first career Cup win on the final lap. Jones won at Daytona in July 2018. It would have been his first win of the season, but second of his career.
Next week, the NASCAR Cup Series travels to the famous Watkins Glen International road course in upstate New York. The Glen is usually one of the most exciting races of the season. In 2018, it was the site of Chase Elliott's first career win. Most fans would probably agree that it was one of the highlights from last year.
Hopefully, the race will deliver excitement again and be paired with a professional telecast because NBC's broadcast team didn't do Pocono any justice this weekend.
Photo: Jared C. Tilton / Getty Images