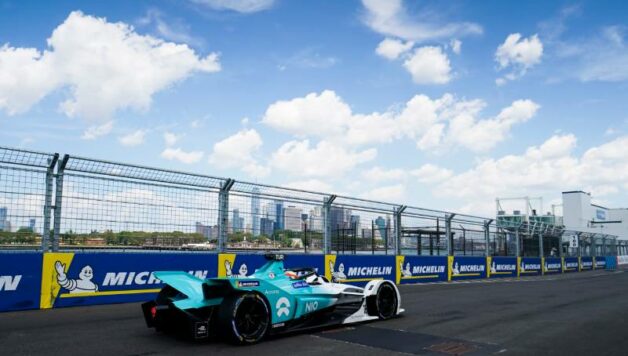 Touring a Formula E team's paddock and experiencing an ePrix as a fan
NEW YORK — On Sunday, the 2018-2019 Formula E championship concluded on the streets of Brooklyn for the third consecutive year.
Jean-Eric Vergne became the first double world champion of the series, and his DS Techeetah team claimed its first team's title. Two ePrix ran during the weekend; Sebastien Buemi of Nissan e.dams won the first race on Saturday. Robin Frijns of Envision Virgin Racing won the finale on Sunday.
The NIO Formula E Team tour
The New Mexico Motorsports Report was invited to an exclusive meeting of the NIO Formula E Team on the morning before Race 2. Acronis, a software company that specializes in cyber protection, is a partner of NIO and organized it.
Select media members got to meet engineering director Paul Fickers and the two drivers, Oliver Turvey and Tom Dillman. Fickers explained the philosophies of Formula E and how the series has changed since the last time it visited the U.S.
"The race itself is an energy race," Fickers said. "It basically means you have to do 45 minutes plus one lap, but you only have enough energy in the battery for 40 minutes. You have to save energy, and you have to regenerate.
"It's very complex. The driver needs to be able to race and save energy."
The series has undergone several changes to the sporting regulations since the end of the 2017-2018 season. The cars now have a 250 kW battery that will last the whole race length. Before this season, drivers had to switch cars in the middle of an ePrix because the batteries were strong enough to only last approximately half of an event.
Another new facet used to promote varying strategies during an ePrix is Attack Mode. Attack Mode allows a driver to get a power boost of 25 kW when he races off the preferred racing line. There are designated areas on the track where he can activate a button on his car that will allow it to gain extra power. He then has to drive through the Attack Mode area on the track. Think of it as a turbo boost in Mario Kart; it lasts only a few seconds, but it can help a driver gain a position. It can be used up to five times in one race.
Formula E is partially a spec series, which helps keep costs down. McLaren Automotive Technologies supply the batteries, and Dallara designs the chassis. But each team develops its powertrain. That's where the most significant differences come from among the cars. The cost of operating a Formula E team can range from $15 to $20 million per season. That's less than a tenth of what most Formula 1 teams spend.
Another financial difference between FE and F1 is the importance of driver sponsorship. Many F1 drivers bring their personal backers to a team to help secure a driver. In Formula E, not a single driver has to bring anything to the table. The teams establish every partnership themselves.
The race day experience
Here's the thing about attending a Formula E race as a spectator: if you show up only for the ePrix, you're not getting your money's worth.
From the grandstand I was sitting in, you could see the ferry from Manhattan arriving at the Brooklyn port. The port was adjacent to the fan entrance, and people were walking straight from the ferry to the gates 10 minutes before the start of the race.
If you're going to attend a Formula E event, make a whole day out of it because the race is only 45 minutes long. There is so much to do around the track, and a lot of it is free.
After the NIO tour, I had about four hours to kill. To keep myself occupied, I went to an indoor Nissan attraction. It was outside the track area, but it was literally across the street from the entrance gate, and it didn't cost a nickel to get in.
Fans could see Formula E display cars up close. They could interact with virtual reality. There was a setup along one of the walls where people sat in a race seat, put on virtual reality goggles, and held a steering wheel. I didn't partake, but it was pretty obvious they were pretending to drive a racecar.
Audi hosted something similar. This one was even better because there was space to sit down and enjoy an ice-cold water bottle (it was nearly 100 degrees at the track, water was a necessity). You could also use one of the portable phone chargers that were on the tables.
Audi also offered fans the opportunity to test drive a fully electric streetcar. I was a passenger in one of them. An Audi employee sat in the front passenger's seat and explained how the car functioned. Everything from throttle response, brake response, and battery regeneration. All you had to do was sign a waiver, and you could navigate a few blocks through the local neighborhood.
During the actual race, you don't need any ear protection. If you've ever been to a Formula 1 or NASCAR event, you know that the volume of the engines is painfully loud. You can't go more than 15 or 20 minutes without feeling your eardrums ready to burst.
In Formula E, the screeching of the tires is often louder than the car's power unit. The vehicles don't have any transmission so that winding sound you hear on the track might remind you of an RC Car.
Fans can influence the race, too. The Fanboost is a power boost given to the top-five popular drivers during an ePrix. Fans can vote for their favorite driver, and the driver can use the boost at any time during the second half of the race.
Yes, this is exactly as gimmicky as it sounds. Imagine if this was something NASCAR fans could use. How many times would Dale Earnhardt Jr. have enjoyed Fanboost during his career? How many wins might this have cost Kyle Busch so far? Fan engagement is a crucial part of any live sporting event, but this takes it a little too far.
Spectators aren't supposed to have an influence on a race. It's bad enough that race stewards inadvertently have that power at times. And if you're Felipe Massa (or any other driver that has F1 experience), you're almost always going to have the Fanboost advantage because more people are going to recognize your name. Fanboost only lasts a few seconds, but it theoretically can have enough impact to alter the winner of a race.
Why Formula E? 
The FIA has invested a lot in this series. Some folks believe that when fossil fuels are dried up and the traditional Formula 1 car ceases to exist, Formula E will become the new pinnacle of auto racing.
As I wrote last year, Formula E is essentially a platform that allows automotive manufacturers to showcase their innovations with electrification and hybridization. It's going to remain that way for years to come as the series grows.
But I don't think Formula E will ever be considered the top series of motorsport. In F1, drivers push 100 percent of the time without the fear of running out of fuel. The idea is to go as fast as possible, and it is the duty of the teams to build to the most reliable piece of equipment they can.
In Formula E, teams are supplied a chassis and battery. And drivers have to conserve energy throughout a race. It's almost like they're competing with their own battery life instead of the other drivers. It's unlike any other professional racing series on earth in that aspect, but that's OK. Formula E wants to stand out.
Formula E has been racing on street circuits in some of the world's most iconic cities for five years, and that's something not even F1 could do. New York, Rome, Paris, Hong Kong. The list goes on.
The attraction with this series is its sustainability and energy-efficient philosophy. Cities realize this type of series will draw people around the world while also not creating air pollution or noise pollution.
That's where Formula E might always have the advantage. But to think it will one day be the most popular form of racing in the world is pretty far fetched.
There probably will be a time when F1, NASCAR, endurance racing, and everything else related to motorsport will become electrified. But that's still a few decades away. And by that time, manufacturers will likely have designed a motor that can last a few hundred miles and drivers won't have to conserve their battery. They will still be able to compete against other teams at 100 percent.
But battery conservation will remain a crucial part of Formula E racing. The series has no desire to share similarities with a traditional racing series. It's a bold strategy, but the FIA believes it is working and it will continue to use it as long as the series grows and remains the top electrified racing league in the world.
Photo: LAT / Formula E