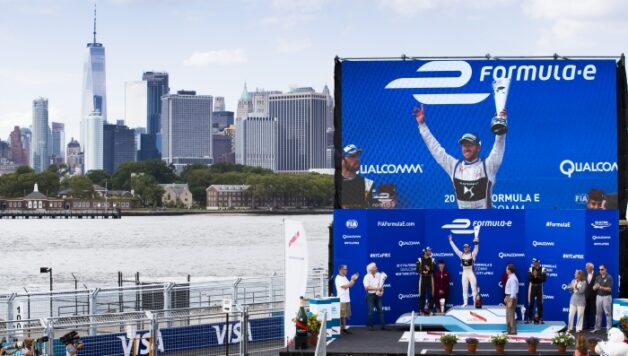 Sam Bird discusses Formula E's growth ahead of championship finale in New York
NEW YORK — For the third consecutive year, Formula E will race on the streets of Brooklyn in a New York City doubleheader to decide a world champion for the all-electric open-wheel car series.
The 2018-2019 FE season has been quite different than the four prior seasons. The race format has changed from a pre-determined number of laps to a 45-minute ePrix. Drivers no longer switch cars mid-race as the new, second-generation vehicle's battery can last the length of an entire event. And Attack Mode, a power booster which drivers can activate when driving off the preferred racing line, has been introduced to enhance the quality of the competition.
The league will be waving the checkered flag on its fifth year of racing this weekend, but the growth and following it has seen would make one think it's been around for decades.
"I think that most racing formulas are looking at Formula E," Sam Bird, a driver for Envision Virgin Racing told NMMR. "And they might be starting to be concerned about its growth and how big it has gotten so quickly and the fact that it's so modern makes it so strong."
Bird has been a Formula E driver since its inaugural event in Beijing in 2014. Over the last five years, he's won eight ePrix and earned 17 podiums. He swept the dual New York ePrix races two years ago, as well.
As a veteran in the series, he's seen how the competition has evolved and witnessed several of the top automotive manufacturers in the world join the circuit. Companies such as Audi, Nissan, Jaguar, and BMW have committed to building electric race cars. Two more high-profile brands will be on the grid next season, too.
"The competition is getting harder and harder," he said. "Next year, we're going to have to compete against Mercedes and Porsche, which makes it even harder. Every year, the driving competition gets more fierce."
Bird is currently ninth in the driver's championship while his team is third in the constructor's title. But it's actually been an off-year for the Briton, who says misfortune has plagued him throughout the spring.
"I've led in the season a couple of times," he said. "I've had like a run of really, really, rubbish luck. Like four or five races in a row where I was taken out pretty much every single race. … That was quite a difficult period of the season. We find ourselves in ninth place, but I still feel like the championship is up for grabs."
From the Sanya (China) ePrix in March through the Berlin round last month, he's finished 21st, 11th twice, 16th and ninth. A crash on the first lap took him out in Sanya, and he was dealt with a tire puncture in Monaco. Nevertheless, he knows he has two more chances to improve his position in the standings before Race 2 concludes on Sunday.
"I'm optimistic that I can have a strong weekend and hopefully improve my position in the championship quite considerably," he said.
The Virgin Racing team is 23 points behind Audi Sport ABT Schaeffler, who resides second in the constructor's battle. DS Techeetah is poised to win its first team title while Jean-Eric Vergne is on the brink of becoming the first ever multi-time driver champion.
Had Bird endured less bad luck, he and the team might've been in the championship conversation this weekend as well. Before this season, he's never finished worse than fifth in the standings.
"We're right there," he said. "There is no reason why in the future if we have a season where we don't have some misfortunes, there's no reason why we can't get the championship. Some teams and drivers have been close before. We were close last year.
"To make the next step, it will just take a little bit more fortune, I think, and just try to maximize everything."
Photo: Envision Virgin Racing