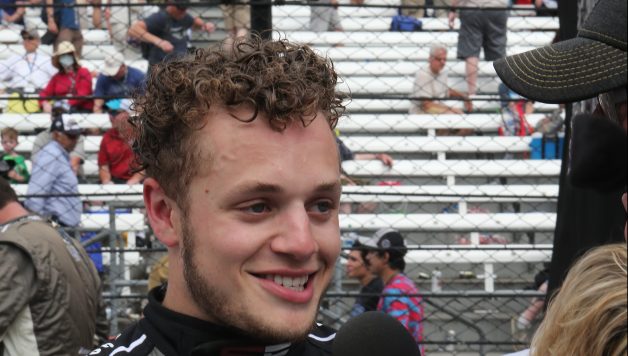 Indy 500 ROTY Santino Ferrucci 'a different person' now with Dale Coyne Racing
INDIANAPOLIS — Twenty-year-old Santino Ferrucci had never raced on an oval before Sunday.
But that's because the Ferrucci of old was a test driver for the Haas F1 racing team who lost a seat in Formula 2 after an on-track meltdown with his teammate at Trident Racing in Europe.
He was talented but not yet levelheaded. The F1 prospect crashed into Arjun Maini, refused to visit the stewards to discuss the incident, and handled his cell phone while driving the racecar after an event at Silverstone last summer.
Eventually, Trident fired him, and he became the subject of a $575,000 lawsuit from his former F2 team.
Later in the year, Ferrucci ran two IndyCar Series races for Dale Coyne Racing. His hopes of a career in F1 were destroyed, but a new door opened when Coyne needed a driver to replace the injured Pietro Fittipaldi.
During the offseason, Ferrucci began to reestablish his career. He became a new and improved version of himself and found a home as a full-timer with Coyne. He drove the No. 19 Honda to a seventh-place finish in the Indianapolis 500.
The Connecticut native says he's learned from his experience. He's learned and matured from his mistakes while also becoming a more disciplined racecar driver.
"I feel like I'm a different person," he told NMMR. "I think it shows in the results and what we're doing. Especially with (Sebastien Bourdais) as my teammate and Dale as my team boss. They're great mentors, and I can't be in a better place."
Ferrucci won the Rookie of the Year award for the Indy 500. He's 10th in the standings, which leads all first-year IndyCar drivers to this point of the season.
"It's nice to have your best finish of the year come at the 500, and this was a driven race," he said. "We drove past all these cars, and we had a hell of an engineering team, a hell of a spotting team, all the pit stops were just amazing. It was a true seventh for us, which is really nice."
Late in the race, he drove across the grass and onto the pit access road to evade a five-car wreck in Turn 3. It's always a risky move to intentionally direction oneself off the racing surface, but Ferrucci tried and managed to escape unscathed.
"I saw the grass, and I just floored it," he said. "At the end of the day, I can't complain."
Coyne is one of IndyCar's mid-pack teams in terms of budget and performance. It has a history of sponsorship struggles, but Ferrucci's presence has helped solidify the organization. The results show as Ferrucci has quietly earned three top-10s in the first six races.
"We were blind up in the top-10 in a lot of races this year. We've only managed to pull off two," he said. "It's nice to have a rolling consistency being in the top 10 and going into Detroit will be the first time I'm back in a track that I actually know on the calendar, and I'm very much looking forward to the duels."
Photo: Richard Dowdy / INDYCAR Media