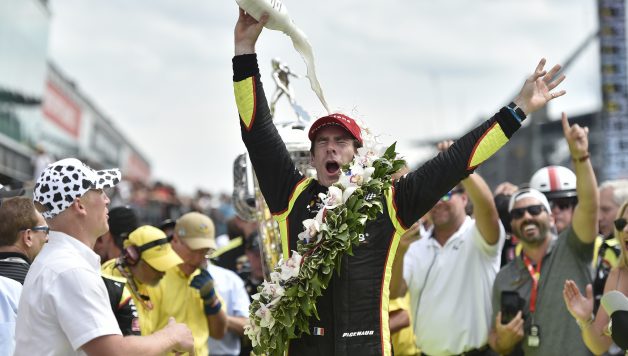 Four decades worth the wait for businessman John Menard to get elusive Indy 500 win with Simon Pagenaud
INDIANAPOLIS — Since the early 1980s, John Menard has sponsored racecars and grown his business into one of the most recognizable home improvement stores in the Midwest.
His chain, Menards, sponsors just about everything with four wheels in American motorsports. NASCAR, IndyCar, ARCA, Team Penske, Joe Gibbs Racing, ThorSport Racing. The list goes on.
He's enjoyed success as a financial backer in various forms of racing but hadn't been the sponsor on the winning Indianapolis 500 car until Sunday, when Penske's Simon Pagenaud outdueled Alexander Rossi in the final 13 laps.
The man that has given so much to the auto racing industry finally gets something even more magnificent in return: the Borg-Warner Trophy
"This is really special," Menard said. "I've been trying to win this thing for 40 years. … There has been a lot of history and a lot of memories. It's been a journey, not a destination to this. But this is a good day."
It's not just about the money for Menard. He's the wealthiest person in Wisconsin, and it's no object to him. His passion for racing has been enough for him to want to keep his brand in racing.
Menard was a part of the 1997 and 1999 Indy Racing League titles with Tony Stewart and Greg Ray, respectively, as a team owner. He's funded his son Paul's NASCAR career for more than 15 years. Paul's one career Cup Series win came at the 2011 Brickyard 400 in Indy.
"John and I have been around here for a long time," said Pagenaud's team owner Roger Penske. "I've watched him; he's watched me. A couple of years ago, we said, 'Look, we'd be better together.' It took a couple of years, but to see the Menards logo and (his) excitement and commitment to the sport is terrific."
Menards aligned with Penske's IndyCar program before the 2016 season. It was a primary sponsor for Pagenaud in five of 16 races that year. The Frenchman has won four races with the neon yellow paint scheme and earned an IndyCar title since then.
"He's been trying so hard," Pagenaud said of Menard. "I felt so bad that we didn't get one for him already, so finally getting one for him is very special. Having that livery is very cool because people notice the car so easily. It's so great for all that he's done for the sport. He's done so much. He deserves to get a Borg-Warner, so I'm very proud, very proud to be the driver driving that car."
As for Pagenaud, the Menards driver, he takes over the championship lead by one point over teammate Josef Newgarden. He was the only one to celebrate at Indy throughout May; he won the Grand Prix two weeks ago, the pole last week, and just became a 500 champion.
All focus is on the title now for Pagenaud. There are still 11 races left to determine who gets the Astor Cup.
"We're going to have to work really hard at this. But certainly, I think we've hit our stride," he said. "I think we've understood what I need from this car and how to get it. That was the biggest thing. We knew what I needed. It was how to get it. We did get that. Very comfortable on the oval now. … And on road course and street course, I think Team Penske has done a phenomenal job now, and I think our team is going to be very strong.
"The goal is to win the championship this year. There's a lot to achieve still, and we're going to get back to work tomorrow. But I hope everybody is scared."
Photo: Chris Owens / INDYCAR Media