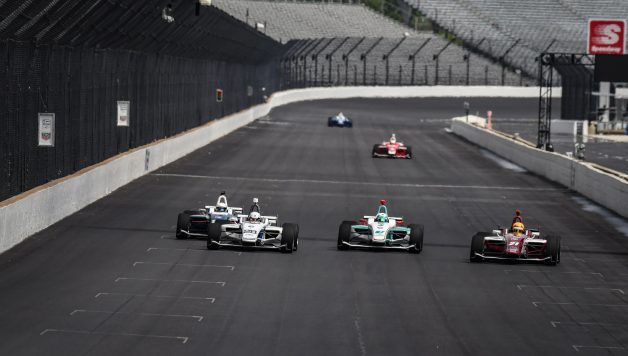 Friday's Freedom 100 further proves why it's a must-see at Indy 500 weekend
INDIANAPOLIS — Each year, more than 300,000 people come to Indianapolis Motor Speedway for the 500-mile race on Sunday.
The Indy 500 is not only one of the greatest racing events in the world, but it's also simply one of the greatest events. Period.
But two days before the 500 is the Freedom 100, which is run by future open-wheel stars in Indy Lights, the feeder series for the IndyCar Series.
The field is small (sometimes less than a dozen cars in recent years), and it's only 40 laps around the 2.5-mile oval, but the racing is astounding.
It's basically a 40-minute sprint among 10 drivers in one pack. Think of a NASCAR race at Talladega; that's what it resembles.
"It's easy, flat-out for the cars on their own," Juncos Racing driver Rinus VeeKay said. "It keeps the field altogether and gives great racing. I think we showed a great race, and the fans must have had a nice afternoon."
It's also the most important event on the Indy Lights schedule. It's broadcasted live and has the highest spectator figures of any other race on the calendar.
"It's cool because it's live on NBCSN and this is the first race that I've ever performed live on TV," winning driver Oliver Askew said. "That's incredible. The amount of people here that we're racing in front of is insane. This is the biggest race of the Indy Lights championship."
It's perfect for those that have a shorter attention span and those who want to see photo finishes. Four of the last seven years, the margin of victory has been less than a hundredth of a second. That's less than a foot.
Ryan Norman, who drives for Andretti Autosport, says it's just as, if not more, entertaining as the IndyCar pit stop competition, which takes place shortly after the checkered flag.
"It has become the main event (on Friday), I think," he said. "It's definitely a special event, and I'm glad to be a part of it. Every year it seems to come down to the line, and it's very exciting."
Photo: Road to Indy Media