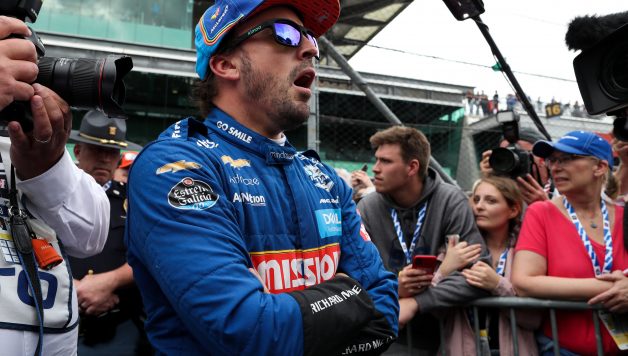 What does Fernando Alonso's failed Indy 500 attempt say about McLaren? IndyCar?
A month ago, someone tweeted at me saying that the biggest potential storyline from this year's Indianapolis 500 would be if Fernando Alonso failed to make the race.
There were several headlines that gained attention in the weeks leading up to the month of May. Could Marco Andretti break the family curse 50 years after grandfather Mario won his only 500? Could Alonso complete the Triple Crown of Motorsport?
But this tweeter said a failed attempt would be the wildest thing to happen. I scoffed at it, thinking that the two-time Formula 1 world champion and McLaren Racing were too good to let that occur.
How wrong I was.
When Alonso ran the 500 two years ago, he was in one of the best cars in the field. His McLaren was built in conjunction with Honda and Andretti Autosport, which has been one of IndyCar's most dominant teams over the last few years.
This time around, McLaren teamed with Carlin Racing, which severely struggled to get its cars up to speed this week. Three Carlin-powered entries were among the six cars in the last row shootout on Sunday. Max Chilton and rookie phenom Patricio O'Ward were in the other two Carlin vehicles.
All three of them failed to qualify. Only Charlie Kimball will represent the team in the 500 next Sunday.
Alonso shouldn't be embarrassed with himself. Yes, he crashed in practice and forced the team to prepare a backup car. But he's still too good of a driver to think it was solely his fault that he's not in the 500. McLaren, on the other hand, won't be let off the hook as easily for this.
When McLaren CEO Zak Brown announced that his team would align with Carlin this year, he said that the goal was to build a car that wasn't heavily dependent on a bigger team. He chose Carlin, one of IndyCar's smallest programs, which seemed like a good pairing as both organizations have experience with European open-wheel racing.
But he might regret the decision. He has failed to get his superstar driver into the world's biggest race. I commend Brown for pursuing a tremendous challenge, but also blame him for not joining a better team in a technical alliance.
McLaren does have aspirations of running a full-time IndyCar team in the near future, and it knew that it undoubtedly face growing pains as it tried to get up to speed with the rest of the competition.
But why make such a risky attempt like this for the Indy 500 with Alonso? It's pretty obvious now, but this was a disaster waiting to happen.
Making the Indy 500 as a one-off entry is an incredibly scary and challenging situation. Everything a team does is invested in its Indy efforts. Failing to qualify is such a financial and emotional blow.
This doesn't affect Alonso's legacy, though. This is a McLaren botch.
Buying into the race isn't an option
When a high-profile driver fails to qualify for a race, the first question people want answered is if the driver and team will buy its way into the event.
"We don't want to buy in," Brown said. "We want to earn it. Anyone can buy in. We want to get in on merit."
That's the right decision. Under-the-table deals like a buy-in are such an ugly facet of auto racing. It makes the team look bad because it says that its wallet is greater than its on-track performance. It also makes the racing series look bad because it allows transactions like that to transpire.
And it means that someone who earned his spot in the race and is trying to make his sponsors happy has to forfeit it to the driver that couldn't get in on his own. That's completely unfair.
How will the F1 world react to McLaren's failure?
After Alonso qualified fifth in the 2017 Indy 500, five-time world champion Lewis Hamilton said a few things that left the IndyCar community feeling insulted.
"I looked at the times and frankly, for his first ever qualifying for Fernando to be fifth — what does that say about Indy?" Hamilton said two years ago. "A great driver, if he cannot win in Formula 1, will look for other races to win. But to see him fifth against drivers who are there all year is … interesting."
He clearly implied that Alonso is better than all the drivers in IndyCar. It's just another chapter in the snide "F1 is better than IndyCar" narrative.
Hamilton certainly isn't the only F1 personality with that mindset. Getting someone else in F1 to openly say the things Hamilton did would be a difficult task, but I guarantee there are other drivers and industry people that agree with him.
Alonso, however, didn't need to endure a failed attempt to respect the race or Indianapolis Motor Speedway. He was asked if he gained any new respect on Sunday after qualifying.
He said, "No. No, not at all."
Will Alonso return to Indy for a third try one day?
He can't guarantee that he'll attempt the race again, but the Triple Crown is still at the front of his mind.
"I'll be more than happy to race here in the future and get the Triple Crown which is still a target," Alonso said.
He doesn't know if he wants to endure another stressful month trying to win American open-wheel's most celebrated event. Nor does he know what team he'd like to compete with. But he hasn't indicated that he's giving up the Triple Crown goal. What's next for Alonso? He'll defend his 24 Hours of Le Mans victory with Toyota Gazoo Racing in June.
Photo: Joe Skibinski / INDYCAR Media