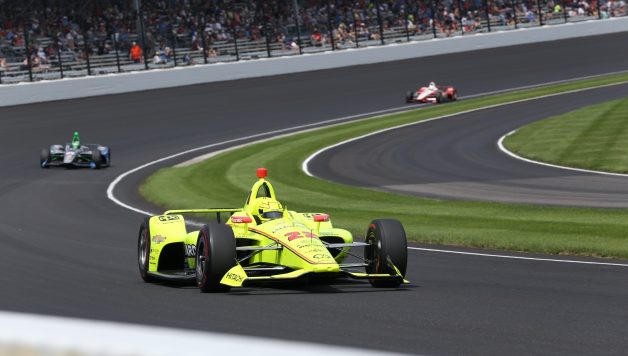 INDIANAPOLIS — Memorial Day weekend's purpose is to remember the courageous acts of fallen American soldiers and celebrate the freedom they fought for by sacrificing their lives.
Americans like to have barbeques, make trips to the beach and do anything else summer related on this weekend. It's also the greatest weekend of the year for auto racing fans everywhere.
The Monaco Grand Prix, the Indianapolis 500 and the Coca-Cola 600 take place on Sunday. All three races are regarded as a marquee event on each series' calendar, essentially making it the Christmas Day of motorsports.
Let's preview the annual tripleheader that will take place on Sunday.
F1: Monaco
The Monaco GP will be the first race since three-time world champion Niki Lauda's death. Lauda, 70, died Monday in his hometown of Vienna, Austria after kidney complications.
He's regarded as one of F1's most influential figures. His near-fatal crash at the 1976 German Grand Prix left him physically deformed, but he continued his racing career and won two more world titles.
Lauda served as a non-executive chairperson with Mercedes for six years and played a crucial role in signing Lewis Hamilton to the team before the 2013 campaign.
Everyone in the F1 paddock will miss Lauda, but perhaps no one more than Hamilton. The five-time champion skipped his press availability on Thursday as he continues to mourn the loss of his friend and colleague.
As for the race itself, Red Bull's Max Verstappen will look for redemption. The young Dutchman crashed in Free Practice 3 with a potentially race-winning car of last year's running which forced him to start at the rear of the grid. His teammate Daniel Ricciardo ended up the victor.
This time, it looks like Verstappen could be an early favorite once again. But he'll have to overtake the two Mercedes, which start on the front row. Monaco is a tight and technical course by nature, which means pure horsepower means a little less compared to other venues. However, it's also a notoriously tough place to pass.
If Red Bull can complete the difficult task of outsmarting the Mercedes organization with pit strategy, look for Verstappen to take the victory.
IndyCar: Indy 500
The 103rd Indy 500 has created quite a few storylines this week. Fernando Alonso and McLaren's failed qualifying attempt. Kyle Kaiser's unlikely triumph. Simon Pagenaud's first pole. Ed Carpenter Racing's speedy Chevrolets.
Let's break it all down.
Alonso and McLaren got bumped by Kyle Kaiser and Juncos Racing last Sunday for the final starting spot. That's undoubtedly one of the greatest upsets in Bump Day history.
Alonso, a two-time world champion and McLaren, one of F1's most prestigious organizations got beat by .019 mph. That's approximately a three-inch margin of distance.
Juncos, for all intents and purposes, had no business even qualifying for the 500. The part-time team lost two sponsors two weeks ago, but team owner Ricardo Juncos promised that it would attempt to get the No. 32 into the race.
Then Kaiser crashed the primary car in practice last Friday. The crew scrambled to put together a backup piece and make it ready to qualify. Kaiser never got to practice with it.
He earned the 33rd and final position with four perfectly executed laps. Kaiser said his last-place qualifying effort was one of his greatest achievements.
"It felt like we qualified on the pole, to be honest," the 2017 Indy Lights champion said. "We had really good pace with our main car, but obviously we had an incident, and it's been just an uphill battle since then."
At the front of the grid, Simon Pagenaud and the three ECR cars took the top-four positions. Pagenaud has some momentum on his side as he won the Indy Grand Prix two weeks ago. But he's only one oval race in his IndyCar career. Team Penske is one of the two best teams at the Indy 500, so could this be the year for the 2016 champion?
"I think you build your race as it goes," Pagenaud said. "It's a long race, 500 miles. I think at the beginning you taste the water or you test the water. You try to see how your car behaves in the front of the field, and that's going to be a luxury, and then it's very important to also see how the car behaves in traffic.
"You also have fuel saving during the race, which is a very important thing to do, saving your tires, having clean pit stops. There's a lot that goes into it. There's a lot of execution that you have to put together to go to the end of the race and win."
Joining Pagenaud on the front row and directly behind him on the grid are ECR's three cars driven by Ed Carpenter, Spencer Pigot, and Ed Jones.
The talk in the paddock seems to be that the bowties are a tad quicker than the Hondas. Carpenter has won three Indy 500 poles, finished second last year, but the win has eluded him throughout his career.
"I try not to look back too much other than to learn from mistakes and figure out how to do things better," he said. "Really just looking forward and trying to make the best decisions we can and prepare the best we can. I think that's the important thing, in how you get better, if you just reflect on all your misses and get discouraged by that, it's probably not the best mindset.
"We've got a lot of great experience, and we've been getting closer and better, and hopefully, we'll be able to put it together on Sunday for one of our cars."
NASCAR: Coca-Cola 600
Stock car racing's longest race will be the third and final leg of motorsports' greatest day. Hendrick Motorsports' 21-year-old driver William Byron will start on the pole at Charlotte Motor Speedway Sunday night.
The Chevy teams have enjoyed a mini-renaissance for the last few weeks. Hendrick driver Chase Elliott won at Talladega last month. His teammate Alex Bowman has finished second in three consecutive points races, and Chip Ganassi Racing's Kyle Larson won the All-Star Race last weekend.
Team Penske driver Brad Keselowski even said the Hendrick cars are the fastest in the garage this week.
Byron, a sophomore in the Cup Series has not yet won a race. But his crew chief Chad Knaus is a four-time winner of the 600.
And this event has a history of producing first-time winners. David Pearson, Jeff Gordon, Matt Kenseth, Bobby Labonte, and Austin Dillon are among the list.
"It's been a good couple of weeks," Byron said. "Hopefully, it just continues, and we can keep that momentum going, which is definitely on our side. I'm excited for it and that No. 1 pit stall will pay huge dividends later in the race, for sure."
Photo: Matt Fraver / INDYCAR Media