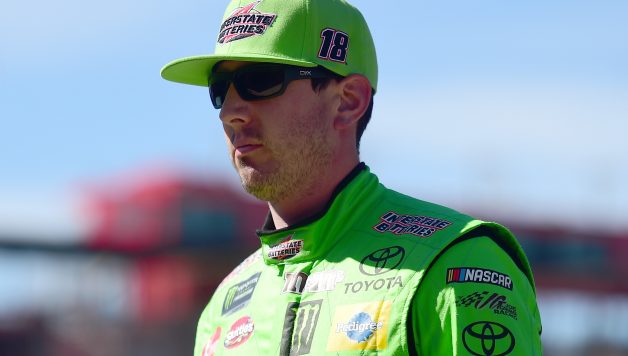 Kyle Busch says Dover speeds are too high and that's absurd
DOVER, Del. — The point of racing is to go as fast as possible at all costs isn't it?
Not according to Kyle Busch. The 2015 NASCAR Cup champion said speeds were "probably too high" at Dover International Speedway on Friday.
The 2019 aero package has made laps times quicker at the shorter tracks the series visits. The cars have an eight-inch spoiler with 750 horsepower. The downforce levels are higher, and drivers can use more throttle in the turns.
"If you have a problem with the speeds you're carrying, it's probably going to hurt (if you crash), Busch said.
Busch was asked if cars and drivers have reached the danger zone. He said, "no question."
Busch was one of only a few drivers to express concern about the high speeds. Jimmie Johnson and Chase Elliott are not worried about it. Alex Bowman said crashes hurt regardless of the speed.
Johnson was more worried that passing will be difficult on race day.
"From a safety standpoint, I don't have big concerns," Johnson said. "The type of racing we'll see on Sunday, I am nervous about that. The faster we go, the harder it is to pass, the wider the race track needs to be. The critical areas around this track are pretty narrow, and there's really one groove around the bottom in most years I've been here."
Busch compared the quicker laps to what Indy cars ran. Those vehicles expose the driver's body and have a significantly greater amount of downforce. In the late 1990s, pole speeds were in the 180 mph range.
But Elliott's pole-winning speed was 165.96 mph. Is that dangerous? Compared to IndyCar's speeds, not really.
"Eventually, there comes a point where it becomes too fast for a stock car too," Busch said. "Whether that is or not, I guess that is people other than myself to think, but I would much rather appreciate racing and being able to race at a more tolerable speed than we are going right now."
Busch's comments seem almost uncharacteristic. He's a competitive individual that wants nothing more than to finish first. Complaining about the cars being too fast is unusual. The only thing he said that most drivers would agree with is that the quality of the racing will suffer as throttle time is increased.
"You're paid to go fast so let's go fast, I guess," Elliott said. "It's not fun hitting something really hard anytime you do. Certainly isn't going to be when you do it at these speeds. It's definitely physical for sure. … Is it too fast? Like I said, this is our job. It's what we signed up for."
Photo: Jared C. Tilton / Getty Images