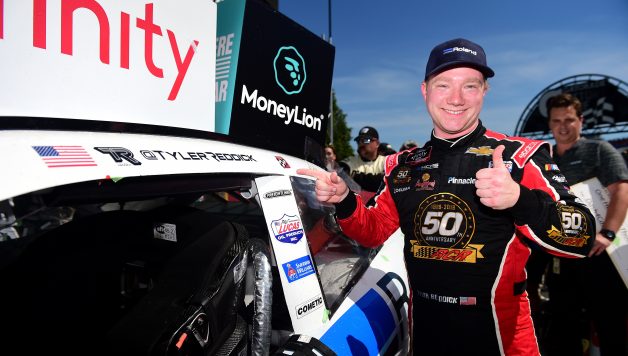 Xfinity Series contenders forced to wait for full-time Cup opportunities
They're ready for the big leagues but have to wait their turn in the minors.
That's what it's like being a contending driver in the NASCAR Xfinity Series. Several 20-something-year-old talents have proven that they can win in NASCAR's "Triple-A" division, but realize that a jump to the elite Cup Series isn't just a matter of skill.
Tyler Reddick, who won last year's Xfinity championship with JR Motorsports, returned this season with Richard Childress Racing. He's the first Xfinity driver looking to defend his title since Chase Elliott, who won it in 2014.
He ran the No. 31 car for RCR at the Daytona 500 in February and hopes to return to the car again in 2019. But he says that opportunity isn't something he can control.
"I don't want to say things that are not in my place to say, but I feel like if in their position that something comes along and they could make it happen with funding, I don't know why they wouldn't," the 23-year-old said. "But that's (team owner Richard Childress') place. That's (VP of Competition Andy Petree's) place to say that, not mine."
If RCR wanted to add a third car to its Cup lineup next year, it could. Austin Dillon and Daniel Hemric are the two full-time drivers, but Cup teams can have up to four entries per season.
That's what makes Cole Custer and Christopher Bell's circumstances more complicated. Custer and Bell, drivers for Stewart-Haas Racing and Joe Gibbs Racing, respectively, appear ready for the leap to Cup.
But SHR and JGR already have four full-time Cup cars and can't expand to a fifth. The Race Team Alliance mandated a four-car limit with the charter system, which was created in 2016.
Neither SHR or JGR have indicated that it could replace one of their current Cup drivers. So Bell and Custer either have to wait until a driver is no longer with the organization or find a new place to race.
"Not a clue," Bell said when asked about how soon he could be in Cup. "I don't know. I mean, ultimately, if I want to, yeah. It doesn't matter. It's not like I could sit here and say, 'I want to, I want to, I want to.' It just doesn't matter. In my situation that I'm in, I have no control over it."
A possible scenario for Bell to race in the 2020 Cup Series is with Leavine Family Racing. LFR joined the Toyota Racing Development family during the offseason and brought in Matt DiBenedetto to drive the No. 95. Team owner Bob Leavine has stated that he's interested in fielding two full-time cars in the future.
Custer ran several Cup races last year for backmarker team Rick Ware Racing. Although the RWR banner was on his car for those events, the vehicle was prepared by SHR. It was essentially the team's fifth entry.
He doesn't foresee any more Cup starts this year though. His focus is the 2019 Xfinity title.
"Nothing planned. Just the Xfinity stuff; trying to win races and get a championship," last month's winner at Richmond Raceway said. "Nothing really Cup planned. … Just going to race in Xfinity and try to win races.
"You got to take it one week at a time. You have to impress people in the moment."
Reddick, Bell, and Custer, who are the top-three drivers in the points standings, have earned the rite of passage to the top series. But they aren't rewarded for their performance until the teams they race with say so.
Other racing leagues, such as IndyCar and Formula 1, have feeder series that help young drivers advance to the top when they're ready. Indy Lights, which is the "Triple-A" of IndyCar gives the champion a $1 million scholarship toward racing in the IndyCar Series the following year. The driver is guaranteed three starts, including the Indianapolis 500.
Formula 2 is the first step below F1. The driver that wins the title can't race for the championship a second time. He must find somewhere else to go. Usually, that means graduating to F1.
It's time for NASCAR to implement a reward for winning the Xfinity title. Perhaps the champion driver should be allowed to attempt the Daytona 500 the following year, like Reddick.
"We had a lot of fun racing the No. 31 at Daytona," he said. "We're hoping that more opportunities will pop up where I can run that car throughout the year. I think (RCR) wants that to happen, but I can't speak for them on that. But I know they had a lot of fun, they were pumped up about it. Running good in the Xfinity Series will help make that case."
Photo: Jared C. Tilton / Getty Images