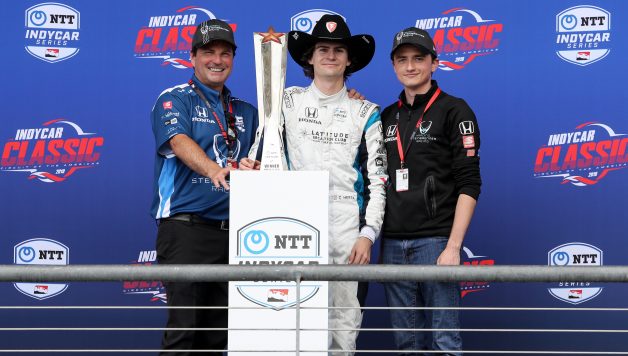 Colton Herta, George Steinbrenner IV prevail in IndyCar Classic as youngest winners in series history
AUSTIN, Texas — When the podium drivers celebrated their finish in the first-ever IndyCar Series race at the Circuit of The Americas, no one sprayed any champagne.
That wasn't by choice, though, as 18-year-old race winner Colton Herta can't legally drink alcohol for another two years and seven days.
Instead, Herta was going to have sparkling cider while second-place finisher Josef Newgarden and third-place finisher Ryan Hunter-Reay enjoyed the adult beverages.
But Herta and Newgarden's bottles were accidentally switched by track staff members. Newgarden wound up with the cider and Herta had the champagne.
"I'd like to clarify; this is cider. They gave me Colton's drink and gave Colton the real deal. Which is very cool," Newgarden said as he walked into the COTA press conference room with a laugh. "I love that."
Herta came in shortly after Newgarden and Hunter-Reay left the media center. One reporter asked Herta about the drink mixup.
"I kept the champagne," Herta said. "I took a swig; I guess it's real."
Most of the talk was about Herta and his youth. Entering Sunday's event, he had two races worth of IndyCar experience. His team's co-owner George Steinbrenner IV, 22, also enjoyed victory in Harding-Steinbrenner Racing's second ever race and became the youngest-winning owner in series history.
"When Colton and I decided that we'd start this crazy journey together in Indy Lights, being able to partner with Andretti Autosport in Indy Lights was huge," Steinbrenner said. "They're a buttoned-down organization, do everything right. To be able to learn from the folks there was a huge jump-start, the perfect jump-start I could have hoped for IndyCar ownership."
Steinbrenner is the grandson of the late George Steinbrenner, who owned the New York Yankees baseball team from 1973 until his death in 2010. Growing up in a baseball family, he appreciates the work that goes into professional sports and has the finances needed to be an essential figure in the business and marketing side of the industry.
Steinbrenner grew up a racing fan and helped Herta, who won four Indy Lights races last year, get a full-time ride in America's top open-wheel series.
Think about it: an 18-year-old driver and a 22-year-old co-owner just won an IndyCar race with a new team. Wild, right? Well, they obviously didn't get there on their own.
Mike Harding is the team's other co-owner. He's operated Harding Racing since the 2017 Indianapolis 500. Before this season, the organization switched from Chevrolet power to Honda and formed a technical alliance with Andretti.
"Andretti Technologies is a company that's come on board to supply support for us on a technical partnership, much like you see elsewhere in the paddock," Steinbrenner said. "To have Andretti Technologies onboard, I mean, it speaks volumes to where we're at now and the fact that all three of us are sitting up here, they have a lot to do with that."
The Harding-Steinbrenner team has two other key people that help the No. 88 Honda stay competitive: Brian Barnhart and Al Unser Jr.
Barnhart is the team president. He joined Harding last year after previously working with INDYCAR in various capacities, including Race Director and President of Race Operations. He's worked to make the series as safe and competitive as it is today.
Unser needs no introduction. He's a multi-time champion of the Indy 500 and the CART series. During his career, he earned 34 wins, and now he's the team's executive consultant.
With Barnhart and Unser's assistance, Harding and Steinbrenner's vision, and Herta's talent, there's no reason to think this team can't be a long-term contender.
So, did Herta feel his first win had set in by the time he spoke with the press?
"I got no clue," he said. "I've been bitten by the bug now. One race isn't enough. Going to go for another one at Barber. Just want to get there and drive again."
Photo: Joe Skibinski / INDYCAR Media