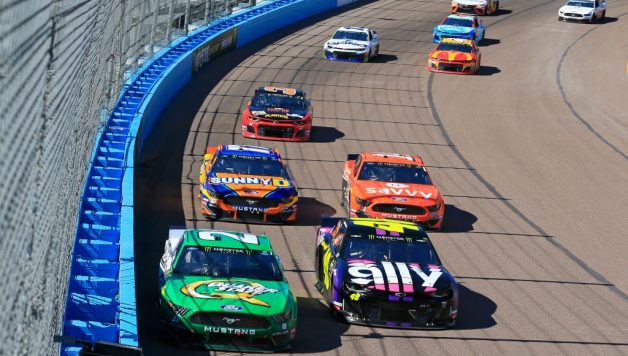 Column: NASCAR listened to its fans and did what it could with 2020 Cup schedule shakeup
Fans have been begging NASCAR to make changes to the schedule for years.
On Tuesday afternoon, NASCAR answered them with the announcement of the 2020 Cup Series calendar.
Among the major adjustments to it is a championship weekend in Phoenix, a regular-season finale at Daytona, a Pocono weekend doubleheader, Bristol's night race moving into the playoffs, Indianapolis hosting a July 4th weekend race, a Martinsville night race, and a playoff-opening race at Darlington.
Let's break it down, starting with Phoenix
ISM Raceway underwent a $178 million renovation last year. The track now has a modern stadium atmosphere and a new start-finish line that has made restarts incredible. We've seen how they play out in the previous two NASCAR visits to Arizona.
The championship weekend moving to the desert isn't much of a surprise, though. There have been behind-closed-doors discussions of Phoenix repacing Homestead-Miami Speedway for a few years. With the venue undergoing a significant overhaul in 2018, it isn't a shock to see such a crucial weekend go to the Southwest. This one-mile oval is quite different than Homestead, which has been the final race of the year since 2002. A lot of fans have wanted a new venue for the championship finale. They now have one.
However, it's worth mentioning that Homestead was a great place for a championship. The track is generally regarded as the best 1.5-mile track in NASCAR. It's also in a great place to crown a champion. Miami has a great nightlife, and celebrating a major sports title there probably doesn't get much better.
Regular season finale at Daytona
Start the regular season and end the regular season at Daytona? Not bad. It makes the 26-week season go full-circle. It swaps weekends with Indianapolis, which became the final race before the postseason last year.
Having a superspeedway (can't call it a restrictor plate race anymore!) race as the last chance to make the playoffs will undoubtedly increase the drama. Daytona is one of those places where at least 25 teams enter the weekend thinking they have a legitimate chance at winning. A regular-season finale at Daytona will be good, and that leads us to the next topic: Darlington.
Starting the playoffs at Darlington
Darlington is a challenging track. Probably the most challenging in all of NASCAR. It takes a great driver with a well-handling car and laser focus to win here. The playoffs are supposed to be difficult, right? Then this track is right where it needs to be. The only thing that could've made this better is if it were deeper into the playoffs (maybe Round of 8) where a win could clinch a championship berth. Having the best drivers vying for a trip to Phoenix should be as difficult as possible. Darlington or maybe a road course race would create a lot of pressure on title contenders. But this is nonetheless another good move by NASCAR. And it keeps the Southern 500 in its traditional place on the calendar on Labor Day Weekend.
Bristol in the playoffs? Finally!
Bristol is a fan favorite and a driver favorite. The high-speed short track has put on great racing for decades. Tempers flare, fenders get bent, and feelings get hurt. But it's never happened with a chance to advance to the next playoff round on the line. This is another weekend that will see a lot of drama and emotion. It might be the best move NASCAR has made.
Martinsville under the lights? Also, finally!
We knew this was coming. Martinsville installed lights two years ago, indicating that the short track would soon feature a Cup race at night. The track is another fan favorite and a place that many have wanted to host an under-the-lights show.
This race, on Mother's Day Weekend, will have that grassroots aura that diehards have desired for years. Short-track racing on a Saturday night is where names truly are made. Before the Cup drivers made it to the pinnacle of stock car racing, they were running late models or modifieds at short-tracks across the country on Saturday nights.
It'll also simply look aesthetically pleasing. There's just something about racecars with lights beaming on them at night that is nice for the eyes. Or at least I think so.
Indianapolis replaces Daytona for July race
The Fourth of July Weekend has historically seen NASCAR racing at Daytona. This change feels a little odd because most fans are probably used to watching the series under the lights at the superspeedway and have grown fond of it. But this isn't a bad change.
Daytona and Indy are the two great American race courses. Every race fan in the world thinks of the Daytona 500 or the Indy 500 when it comes to American auto racing. Keeping a track as famous as Daytona on the Fourth of July slot is essential. When people are celebrating America's independence with barbeques and beer and want to watch something patriotic, there are two choices: baseball or racing.
Indy is a good place for this. If the series were somewhere like Michigan or Pocono, or any other bland venue, it just wouldn't be as appealing. NASCAR needs a great American racetrack for a great American weekend.
Last and also least, Pocono
If there's any track in danger of losing a Cup date in the near future, it's Pocono. It's not that the racing is terrible there, but the track is a dunghill compared to other places the series visits. It's also in the middle of nowhere — aka Eastern Pennsylvania. The closest markets are New York City and Philadelphia, which are both approximately two hours away.
It's hard to say how the doubleheader weekend will fare. Although doubleheaders for Cup are new for NASCAR, they aren't new for other major series. IndyCar races twice when it visits Detroit. Formula E does the same in Brooklyn. And almost everything on the Australia Supercars schedule is a doubleheader.
It's clear that two races in one weekend can work, but will it be successful in NASCAR? One thing that could become worrisome here is that Pocono is notorious for rainy weather. A compact weekend schedule would be problematic if wet weather were to disrupt on-track activity. In the worst case scenario, it could lead to both races having to run on the same day, which drivers and teams would probably dislike.
Why must NASCAR run two Cup events at Pocono anyway? What's wrong with just one event? Well, for one thing, it'll keep the schedule at 36 races. There are also sponsorship and broadcasting reasons for this. So, deal with it. Just hope that a boring Saturday race doesn't discourage fans from returning to watch Sunday's race
What about 2021?
This is when NASCAR will completely revamp the calendar. The sanctioning body will be able to add and remove tracks in 2021 because that's the first year of new contract agreements. If you're one of the many fans looking for more short tracks and road courses, 2021 will be your year.
For now, appreciate that NASCAR has made modifications to the schedule. It has listened to its fanbase and did what it could while its current agreements with track operators and broadcasting partners are still in place.
Photo: Dan Shirley / Getty Images