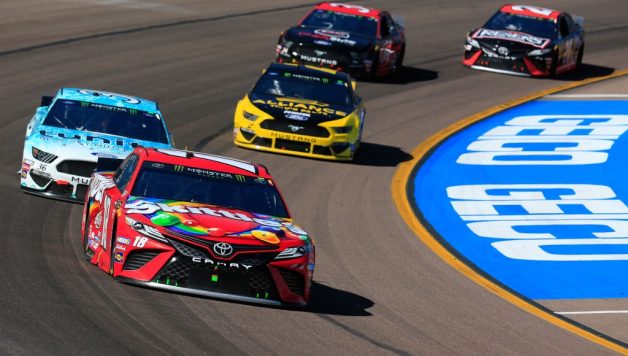 New aero package, new tire compound cause difficult day of passing at ISM Raceway
AVONDALE, Ariz. — When Ryan Newman discussed his prediction for what the new aero package would look like at ISM Raceway before Sunday's Ticket Guardian 500, he compared it to IndyCar racing.
This weekend's package featured an eight-inch tall spoiler and 750 horsepower. Goodyear also brought a tire compound that was expected to wear fast and stay cooler. Speeds would be higher and the cars would have loads of grip.
It sounds good on paper, but let's put it this way: IndyCar returned to Phoenix in 2016 after an 11-year hiatus. Less than three years later, it was announced the series wouldn't come back. Why? Partly because the races were terrible.
"I just couldn't pass," Kevin Harvick said. "Usually at this place, you have a loose car at the beginning of the run and kind of give up one or two [positions] on the restarts and work your way back through traffic. It took us I don't even know how long to get past cars that were six, seven, eight-tenths slower."
Harvick's teammate Aric Almirola concurred. He even went as far as saying that drivers knew it would be difficult to overtake before Sunday.
"It' always really tough to pass at Phoenix, but when you put more downforce in the cars, and we're going across the corner faster, and cars are punching a bigger hole in the air with a bigger spoiler, it just inherently makes the cars a lot harder to drive," he said. "That's nothing new. I think that we all kind of expected it."
Restarts were key. Kyle Larson and Joey Logano were particularly aggressive on them because they knew that once the field got strung out, passing would become a challenge.
"I don't think I made many actual green flag passes. … I just felt like I had really good restarts, especially when I started up top," Larson said. "Restarts are kind of what saved us. It seemed like once you got in line, it was hard to pass. … If you're not a good restarter, it just makes your day a lot harder."
Race winner Kyle Busch, Logano, and Harvick all said the new tire Goodyear brought also affected the racing. When the New Mexico Motorsports Report asked Harvick if the tires or the package made the racing hard, he said, "just all of it."
After the wild restarts, the strung-out field settled down. And if a driver tried to get side-by-side, he was not enjoying much success in trying to get around a car. Throughout the day, there were several drivers who suffered blown tires as well.
"Restarts became everything," Logano said. "You get behind [a car], and it makes the tires mad, and you go slower."
Busch felt the tires were too hard for the race. He knew that on Saturday when he ran the Xfinity Series event.
"For as fast as we were going here, they produced well for us," Busch said. "But I would say running on the Xfinity car because I had the Xfinity race to run, they were way too hard for the Xfinity cars so that just kind of shows you that they were way too hard for the Cup cars. … It was a challenge, but everyone's on the same four blocks anyway, so you got to do the best with what you got."
So what's next? Will the Cup Series have bad short track racing throughout 2019?
There will be 13 more races with the 750 horsepower package this year. The next will be at Martinsville Speedway. Since track position was crucial for the Phoenix race, perhaps some other short tracks would consider using a traction compound such as the PJ1 TrackBite to make more usable lanes and create more passing opportunities?
New Hampshire Motor Speedway and Bristol Motor Speedway have used it before. Maybe other venues will give it a thought before the series visits them. Or else, NASCAR's short-track events could suffer from lackluster shows.
Photo: Dan Shirley / Getty Images