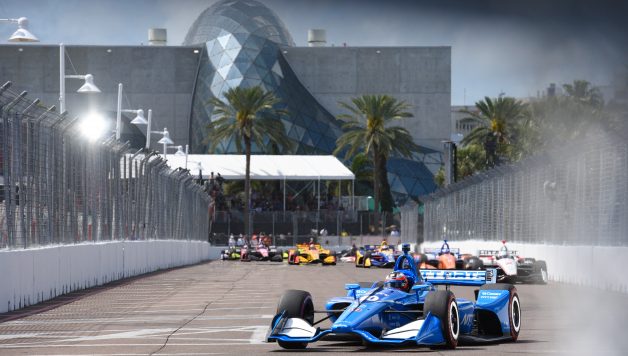 Haverlin: Felix Rosenqvist's tremendous IndyCar debut wasn't a fluke. He'll win this year
If you didn't know who Felix Rosenqvist was before Sunday's Grand Prix of St. Petersburg, you certainly know now.
Rosenqvist, in his IndyCar Series debut with Chip Ganassi Racing, finished fourth after starting there and leading 31 of 110 laps.
He had a brilliant start to the race where he overtook his teammate Scott Dixon and eventual race winner Josef Newgarden on the first lap. He chased pole winner Will Power throughout the opening stint and finally grabbed the lead after the first round of pit stops.
Rosenqvist had a debut reminiscent of Robert Wickens' drive last year. Was it a coincidence? Heck, no.
The 27-year-old Swede has been climbing through the ranks of open-wheel racing for a decade. He won the 2015 European Formula 3 championship and several Macau Grands Prix, a prestigious open-wheel race in China.
In 2016, Rosenqvist ran 10 Indy Lights events with Belardi Auto Racing and won three of them. Over the last two years, he's run in Formula E with Mahindra Racing and won three ePrixs.
He hasn't been able to reach the pinnacle that is Formula 1, but it looks like he might've found something just as good in the United States.
Most American race fans haven't heard of him because, with the exception of two Rolex 24s, his only exposure to racing in the States is in IndyCar's feeder series. But his run in St. Pete will be indicative of his performance in his rookie season. He won't look like a rookie in 2019.
Rosenqvist's experience, especially on street circuits, likely helped him in St. Pete. He'll be a contender in many races over the next few months. His weakness — as most European drivers usually have when new to IndyCar — will be the ovals, but his versatility and background will aid him in winning at least a race this year.
Photo: James Black / INDYCAR Media