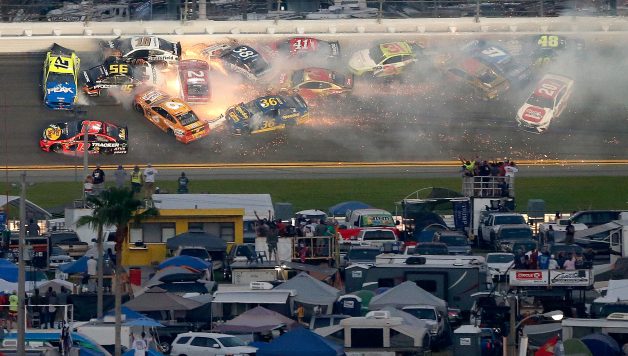 Ryan Preece avoids carnage to finish eighth in Daytona 500 debut
DAYTONA BEACH, Fla. — When Ryan Preece saw "The Big One" happen in front of him, he didn't check up. He gunned his No. 47 through the wrecking and survived his first Daytona 500 by finishing eighth.
Preece, the former modified series champion, doesn't have much experience racing on the restrictor plate tracks. He's a short track ace that earned his ride with JTG Daugherty Racing because of his talent, not his wallet.
He came close to winning the Daytona 500 in his first race with his new team. He got as high as third in the final stage.
"It's something I've never been a part of," Preece said. "So, I have a lot of learning to do, for sure. Today was the type of day that you just wanted to race around these guys and not be erratic and not do anything stupid and hopefully, when we go to Talladega or come back to Daytona, I can get a little bit more help."
Preece miraculously avoided the pileup which collected about half the field. He says it was a matter of fortune.
"Sometimes, you're lucky I guess," Preece said.
The Connecticut native said he experienced a steep learning curve throughout the night. It was his first time at Daytona in a Cup car.
"I got taken to school, to be honest with you. A lot of learning to be had, for sure," he said. "Today was a big learning day. But a really good friend of mine told me a goal is to finish. And I did just that. So, my first finish at Daytona, a top 10 for JTG … what more could you ask for?"
Joey Logano and Preece grew racing together in New England. Logano said he enjoyed racing with the rookie and noted that it must've been a dream come true for Preece to make it to NASCAR's top series.
"I had a great push by the 47 of Ryan Preece, and I thought that was cool," Logano said. "We grew up racing quarter-midgets against each other in Connecticut and it just shows that dreams can really come true. I'm proud to be racing with him in the Daytona 500. I think that's super-cool."
Photo: Brian Lawdermilk / Getty Images