Joey Logano 'surprised' by Michael McDowell's late-race decision
DAYTONA BEACH, Fla. — Michael McDowell probably could have pushed Joey Logano to the front and let the Team Penske driver win the Daytona 500. McDowell and Logano are both Ford drivers, so it wouldn't have been too surprising, and McDowell might've finished second for his lesser-funded team.
But McDowell left him to dry on the final lap. McDowell decided to go for the win for Front Row Motorsports. It didn't work out for him or Logano as they finished fifth and fourth, respectively.
Logano talked to McDowell on pit road after the race. He said he was "surprised" by McDowell's choice.
"He's racing too, I guess, and we can't win these things alone," Logano said. "We've proven that quite often. But we did what we could do."
McDowell did what he had to do for himself. Finishing second isn't the goal in the Daytona 500 and it's too early to be thinking about championship points. Good results aren't important when the win for NASCAR'S biggest event is on the line. It's an all-or-nothing situation.
"I wanted to put myself in the best spot to win the race and the Fords weren't that friendly to me this weekend," McDowell said. "My team doesn't pay me to push Joey Logano to a win."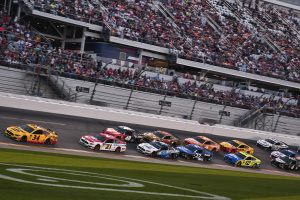 McDowell's job is to give himself the best chance to win. If he were teammates with Logano, the circumstances might have been different and he might've helped the 2018 Cup champion. But he races for FRM and gave the team a top-five. Logano can't expect him to help just because they race for the same manufacturer.
Logano said he didn't give McDowell a chance to speak during their conversation. But he should have, and he'd probably realize that McDowell owes him nothing.
It was a heat-of-the-moment discussion and Logano simply had a kneejerk reaction to not being able to get to the front with any help from a fellow Ford competitor.
But McDowell did nothing wrong. And if he feels the Fords didn't help him throughout the race, then why should he assist any of them to the front?
"I have one goal and one goal only and that's to get a win," McDowell said. "I was close to getting there tonight or at least had a shot at it and wasn't able to get it done at the end. I'm happy with the finish. I'm proud of the team, but that wasn't the goal."
Photos: Erick Messer / The Racing Experts