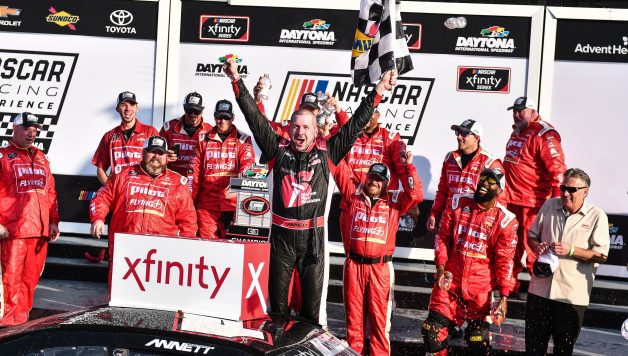 Michael Annett silences critics with first career win at Daytona
DAYTONA BEACH, Fla. — It's no secret that Michael Annett has been the weak link in the JR Motorsports chain the last two years.
But Annett, making his 230th career NASCAR Xfinity Series start, earned his first career victory at Daytona International Speedway on Saturday.
Annett led 45 of 120 laps en route to the win. He held off JRM teammate Justin Allgaier, who attempted to slingshot him on the final lap.
But Annett prevailed and Allgaier settled for second.
Annett missed the playoffs last year. He was the only JRM driver not to qualify and it became harder and harder to justify why he was in a top-tier ride.
"A lot of people have been down on Michael Annett for a while," said JRM team owner Dale Earnhardt Jr. "Michael feels like he got some of the best days of his career this season."
Is Earnhardt right? Maybe. If anything, Annett could say he has a new good luck charm — his car number.
Annett switched from No. 5 to No. 1 this year. The No. 1 has a sentimental meaning for both Annett and Earnhardt, who both come from racing families.
Annett's father owned a sprint car that three-time World of Outlaws champion Sammy Swindell drove. And Earnhart's legendary father founded Dale Earnhardt Inc., which fielded the No. 1 for drivers including Steve Park and Martin Truex Jr.
"This is amazing," Annett said. "I couldn't do it without (the crew). They've stuck with me through the hard times when everybody counted us out, wonders why I get to drive this car. I think we showed it today. They worked their tails off."
Annett knows the naysaying was warranted. In 66 races with JRM, he earned 10 top-10s and one top-five. He led 18 laps in that two-year span. But he's ready to make year No. 3 with Earnhardt's team a successful one.
"I earned that criticism … and I put a lot on myself."
Photo: Erick Messer / The Racing Experts