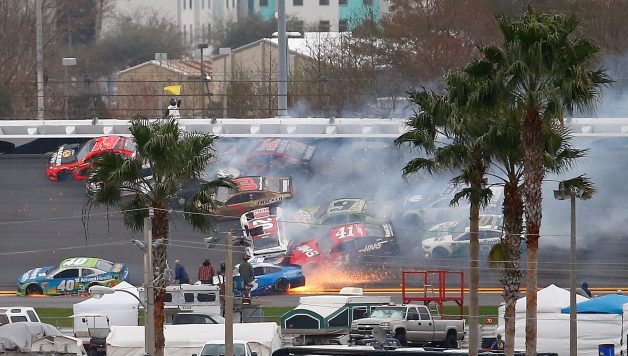 Menard dominates, ends up 13th
Paul Menard isn't the face of NASCAR. He's not a weekly dominant driver. Heck, he only has one Cup Series win in 12 years of full-time driving. But he dominated the Clash. How?
Menard started from the pole after being selected to the position in the random drawing before the race. But he started next to the always fast Kyle Busch, and it wouldn't have been a surprise if Busch took the lead and led the way in the opening 25-lap segment.
But that wasn't the case. Menard, in the famous Wood Brothers Racing Ford, led 51 of 59 laps on Sunday. He controlled the field and kept guys like Brad Keselowski and Joey Logano in the rearview mirror like a pro.
Perhaps it helps to have Joey Meier, Keselowski's former spotter, in his ear now. Meier and Keselowski know a thing or two about winning at restrictor plate tracks. Meier's communication with Menard must've been decent because he managed to keep the second place car at bay for most of the event.
On Lap 55, Menard's perfect day came to a crashing end when Jimmie Johnson jumped to his inside on the backstretch. The two made contact and it ended with Menard turning right into the wall and collecting more than half the field. Johnson took the lead and was deemed the winner when the race was halted by rain.
Was Johnson's maneuver fair?
Jimmie Johnson is a seven-time NASCAR Cup champion and he didn't get that way as a driver happy to run second. He made a move when he had momentum from the draft and unfortunately it led to too much contact with Menard and caused a pileup.
It's Daytona. The "Big One" happens almost every time. But Johnson admits that his move might have been a tad too bold.
"I'll take whatever blame is fairly supposed to be put on me," Johnson said. "I'm very remorseful. I'm probably more remorseful than any other driver in the field when stuff like this happens. I don't crash people to win races."
But Johnson, in his defense, said he had to try something that would allow him to quickly gain the lead because rain was on its way. The race ended after 59 of 75 laps because of the weather.
Single-file snoozefest
In terms of entertainment, restrictor plate races are so hit-or-miss. Sometimes, there's three-wide action from start to finish where lead changes occur every few minutes and spectacular crashes can happen.
Other times, it's a single-file parade at 200 mph and nothing happens for most of the event.
That's what Sunday was like.
Racing double-file or three-wide at Daytona seems to be pretty difficult lately. There probably isn't one thing that can be blamed, though. It's a combination of the way cars react to different aerodynamic tendencies, the ability to have a well-handling car on Daytona's 8-year-old repave, and fear of losing the draft and falling to the rear of the field that has caused dull competition in recent years.
Will this happen again for the Daytona 500 next weekend? Yeah, probably. With championship points on the line and nothing to gain by early aggression, don't expect to see a wide pack of cars until the final few laps of a stage.
Also … from Daytona 500 qualifying:
William Byron won the Daytona 500 pole. Hendrick Motorsports swept the top-four positions, but only Byron and Alex Bowman are guaranteed a front row start for next Sunday's race. The Duel races on Thursday will determine the starting lineup for positions 3 through 40.
Chase Elliott, Austin Dillon, and Ty Dillon have lost their car chiefs for the rest of Speedweeks. Their cars failed pre-qualifying inspection twice. Before this year, the rule was that a team lost its car chief after three failed attempts to get through tech. Now it's two, and they also lose 15 minutes of practice time.
After qualifying, all the cars were impounded. Teams can't work on them again until Thursday.
Photo: Jonathan Ferrey / Getty Images