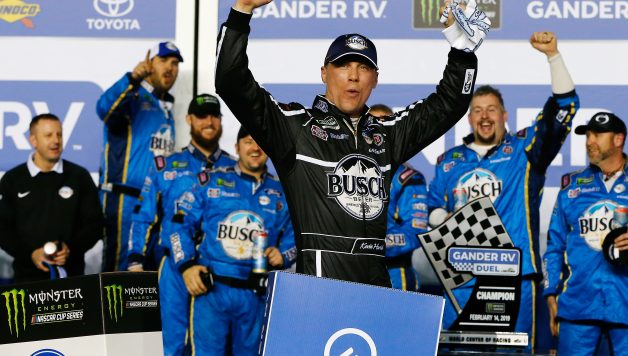 Kevin Harvick, Joey Logano win Duels; Daytona 500 lineup set
DAYTONA BEACH, Fla. — The starting lineup for the 61st Daytona 500 is set.
Hendrick Motorsports teammates William Byron and Alex Bowman qualified first and second, respectively, on Sunday. They were guaranteed a front row starting position as long as they had a clean Duel race and didn't need to go to a backup car for the 500.
Kevin Harvick won Duel 1 and will start third. Defending series champion Joey Logano won the second Duel and will start fourth.
Six open cars attempted the race and four of them qualified. Tyler Reddick, driving for Richard Childress Racing, and Casey Mears, running a joint-effort car for Germain Racing and Premium Motorsports, were able to clinch a starting spot for "The Great American Race" with the fastest qualifying laps among non-chartered entries over the weekend.
Parker Kligerman and Brendan Gaughan raced their way into the show on Thursday night. Ryan Truex and Joey Gase will miss the 500.
Like the Clash and last year's 500, a lot of the racing was single-file along the outside wall. Drivers have said that is the preferred line throughout Speedweeks because of aerodynamic tendencies between the cars and even the fence. The vehicles handle better there and without much on the line, few risks were taken to gain track position.
"I hate riding around," said Darrell Wallace Jr., running his second Daytona 500 this weekend. "I am not a fan of riding around the top. It's like everybody knows if more cars go to the bottom we can race on the bottom, but it's just where momentum takes us with the aero package we've got now."
Said Logano: "The side draft is more effective against the right side of the car. Once that is in a drivers head [they think], "The bottom's not gonna work."
Ryan Blaney led 118 laps in last year's 500. A lot of his time in the lead was with single file runs, and he knows it can be a bore for fans to watch.
"People don't want to just watch that train up at the top, so now that we're through the Duels I'm hoping for some side by side racing in the 500," he said.
If Speedweeks has been indicative of how Sunday's event will transpire, it will be like watching a 200 mph parade. But patience is a virtue when it comes to restrictor plate racing and there might not be side-by-side runs until the ends of the stages.
So what might make the racing more compelling?
"We need heat, we need daytime and we need handling to come into play," said Kurt Busch. "Right now, everybody is just doing fuel only and the cars are driving pretty easy. With the handling, the draft is still very unstable, so we will see how it plays out."
NASCAR.com has posted the projected starting lineup. Forty cars will compete Sunday afternoon.
Photo: Jonathan Ferrey / Getty Images