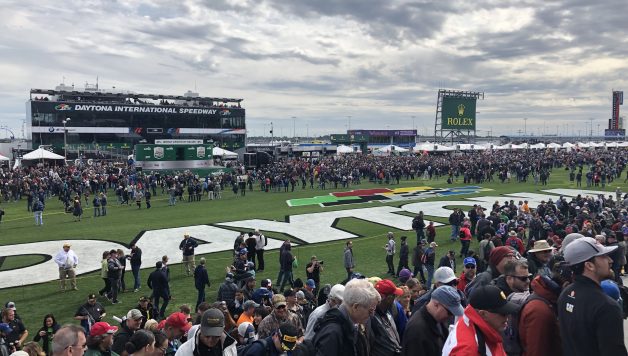 DAYTONA BEACH, Fla. — The 2019 racing season is upon us and engines will ignite at the historic Daytona International Speedway.
The 57th annual Rolex 24 At Daytona will begin at 2:35 p.m. ET on Saturday and 47 cars will take the green flag. Here are some storylines to follow throughout the race:
It's a new track record!
During the Roar Before The Rolex 24 earlier this month, the No. 77 Mazda Team Joest DPi set a track record with Oliver Jarvis behind the wheel. But it was an "unofficial" record because it occurred during a test session.
However, Jarvis did it again and broke a 26-year-old qualifying record set by P.J. Jones in 1993. Jarvis set a speed of 136.792 mph and the No. 77 will lead the field to green for the twice-around-the-clock event.
Rossi's Team Penske debut
Alexander Rossi will drive the No. 7 Acura DPi for Team Penske with Ricky Taylor and Hélio Castroneves. Graham Rahal has been replaced by Rossi because he was unable to fit properly in the car seat.
"I got the phone call from Honda and asked if I'd be interested and I was very interested. It was kind of an opportunity to further my relationship with them, and drive for a good team in Team Penske," Rossi told the New Mexico Motorsports Report. "It was a pretty easy 'yes,' and the deal came together quite quickly."
Does Penske lose or gain anything in having Rossi drive instead of Rahal? Castroneves doesn't think so.
"It's tough to not have Graham because when you go through the process of having someone new, it is a process," the three-time Indianapolis 500 winner said. "However, Alex — what he brings to the team, first of all, is an incredible talent as well. When you win the Indy 500 and also battle for the championship in IndyCar, the person ready and up to the task. As soon as he jumped into the Acura Team Penske car, he was right up to speed."
Alonso's first post-F1 race
The last time two-time Formula 1 champion Fernando Alonso was competing in a race car, he was celebrating his legendary career with burnouts at the end of the Abu Dhabi Grand Prix in a McLaren.
Alonso, now retired from F1, has joined Wayne Taylor Racing for the Rolex 24 and will compete with Jordan Taylor, Renger van der Zande, and Kamui Kobayashi. The last time the Spaniard drove in a 24-hour endurance race, he won with Toyota Gazoo Racing at Le Mans last June.
Zanardi's inspiring return
In December 2017, BMW Motorsports announced that former open-wheel racer Alex Zanardi would compete in the Rolex 24 in a modified M8 GTE, which has a customized steering wheel mechanism that he can use with his hands.
Zanardi lost both his legs in a horrific CART crash in Germany in 2001. Since then, he's become an inspirational figure that's competed in other forms of racing such as hand cycling as well as the Paralympic Games.
Zanardi will share the No. 24 BMW Team RLL car with John Edwards, Jesse Krohn, and Chaz Mostert. They'll start seventh in the GTLM class.
Allmendinger: The broadcaster and driver
A.J. Allmendinger will drive for his long-time friend Michael Shank in the No. 86 Acura NSX GT3 in the GTD class. While he'll share the seat with Justin Marks, Trent Hindman, and Mario Farnbacher, he's also going to be a part of the NBC Sports broadcast team.
Girl power
Speaking of Meyer Shank Racing, the team's other car will feature an all-female driver lineup. Katherine Legge, Simona de Silvestro, Ana Beatriz, and Christina Nielsen will drive the No. 57 Acura and start from 11th in the GTD class.
Can Mustang Sampling Racing rebound and repeat?
The team that won last year's Rolex 24 has its work cut out this time.
Mike Conway ran into travel issues as he was departing England on Friday and won't compete in the race. The No. 5 Cadillac DPi will run with the winning trio from last year; with Filipe Albuquerque, Joao Barbosa, and Christian Fittipaldi.
The car will start 46th out of 47. Albuquerque reported brake issues during qualifying and failed to post a single lap time.
This is also Fittipaldi's final race. The team threw a surprise party for the sports car veteran on Thursday, which brought him to tears. If he's going to celebrate a victory for the final time, it'd be a tremendous success story for a team that's been dealt a few blows already.