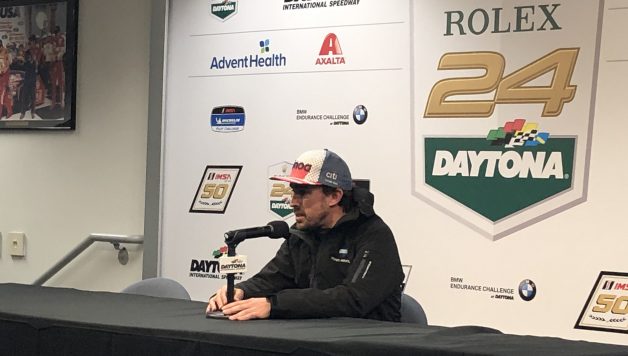 Haverlin: Alonso's dominating first stint with WTR is what I've been waiting to see
DAYTONA BEACH, Fla. — Fernando Alonso is undoubtedly one of the best active racecar drivers in the world.
His accomplishments in auto racing have been well-documented. He's a two-time Formula 1 champion and the most recent winner of the 24 Hours of Le Mans. He also looked outstanding in his Indianapolis 500 debut two years ago.
But as someone who's only followed his career since 2016, I haven't really seen what kind of genius he can be in the seat of a top-notch ride. Almost all my experience watching Alonso has been when he's driving a mediocre McLaren F1 car.
When he took over the No. 10 Konica Minolta Cadillac DPi tonight, he immediately looked outstanding.
Alonso got in the car shortly before 5 p.m., and the Wayne Taylor Racing machine was in sixth at the time. Jump ahead about three hours, and the car led the field by nearly 15 seconds.
Early in his stint, he battled for second with Hélio Castroneves, who was piloting one of the Acura Team Penske DPis. Alonso gradually reeled him in over the course of a few laps and then the two eventually got side-by-side on the frontstretch.
Alonso was able to out-brake the three-time Indy 500 winner and take the position going into Turn 1. Just a few moments later, Alonso passed the pole-winning No. 77 Mazda Team Joest DPi for the lead, and he made it look easy.
This is the Fernando Alonso I've waited to see. I've only read about and watched old F1 races where he showcases these skills.
Alonso, competing in his third career 24-hour event, feels comfortable with endurance racing and all the variables that come with it.
"I like sports car racing. The nature of these endurance races is quite fun to experience," Alonso said. "No two laps are the same. In traffic, you meet people in different places every lap over 24 hours. … Conditions are so different in the laps you do and the car requires a lot of adaptation."
The Spaniard also said changing weather patterns, tire wear, and trust in your teammates are what make endurance races fun. But it also makes the races challenging.
I never doubted Alonso's skill, but I also never saw it happen in front of me until tonight. It makes me wish I were watching F1 in 2005 and 2006 when he won his titles because I've clearly been missing out.