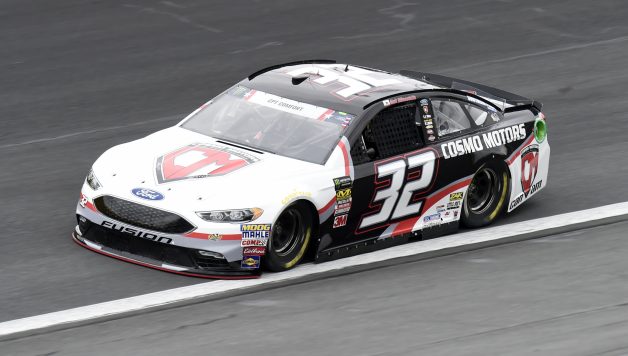 Corey LaJoie gets 'best opportunity' of Cup career with Go Fas Racing
As a driver in the NASCAR Cup Series over the last two seasons, it wasn't hard to forget that Corey LaJoie was in the field.
LaJoie raced with BK Racing during his rookie campaign in 2017, where he averaged a finish of 30th for the season. This past year, he competed in 23 events for TriStar Motorsports and averaged a result of 31.5.
LaJoie hasn't had the opportunity to showcase his talent in the Cup Series, but that's because of the inferior equipment he was driving, not his ability.
As a teen, he was an impressive racer in the NASCAR K&N Pro Series East. At 20, LaJoie was selected as a member of the 2012 NASCAR Next Class and won five K&N races driving for his father's team.
In 2013, Lajoie ran five races in the ARCA Racing Series, and he won three of them. Over the next three years, he competed in several NASCAR events on the national level. Most notably in 2016, he drove for former Xfinity Series team JGL Racing in 10 races and earned two top-10s in a mid-pack car.
OK, with all this said, LaJoie still hasn't been impressive in the Cup Series. Why would 2019 be any different?
Go Fas Racing isn't a front-runner in Cup, but it has a budget greater than BK or TriStar. The No. 32 Ford gets engines from Roush-Yates Engines, which have more horsepower than those of Pro-Motor Engineering and Race Engines Plus (TriStar and BK's suppliers, respectively).
Archie St. Hilaire has owned the team since 2014, and he's grown it with Matt DiBenedetto behind the wheel since 2017. In two seasons together, they earned the No. 32 car the first three top-10s of its Cup tenure.
"Every year we feel like our program takes a step forward and securing Corey should help us continue to move that direction," Go Fas Racing General Manager Mason St. Hilaire said in a press release. "We've learned and grown a lot in our time in the Monster Energy NASCAR Cup Series and I believe our results reflect that growth."
Added LaJoie, who spoke at the NASCAR Hall of Fame on Thursday morning: "This is definitely the best opportunity I've had so far in my Cup career."
Go Fas will have additional support from Team Penske, which will supply the No. 32 car a pit crew. The No. 32 will also continue its partnership with Circle Sport Racing and use the No. 33 charter, which is owned by Joe Falk. Randy Cox will return as crew chief.
Photo: NKP via NASCAR Media Site