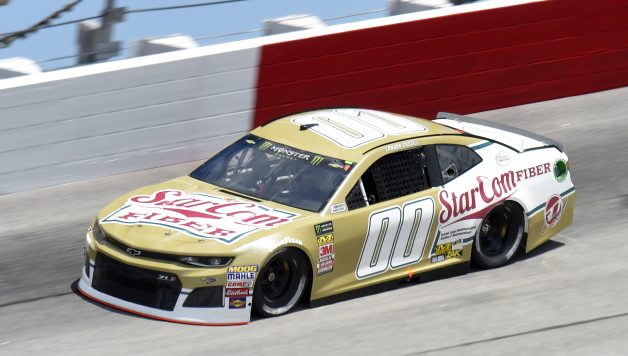 Landon Cassill hopes StarCom Racing is his long-term Cup team
When the 2018 NASCAR season began, Landon Cassill didn't have a ride.
Cassill had been released by Front Row Motorsports at the end of 2017. When 2018 rolled around, he wasn't in a car. He spent the first few weeks searching for an open seat.
"Every day, I was contacting people trying to see what as going on and seeing where other drivers were going to end up," Cassill told the New Mexico Motorsports Report. "A couple races into the year is when Elyshia Cope (StarCom's marketing director) called me and asked me to join StarCom."
Cassill made his debut in the No. 00 car at Martinsville Speedway in March. He made 29 starts for the team in its first full Cup season.
Midway through the year, Cassill declared driver points for the Xfinity Series, meaning he would forfeit his place in the Cup standings. The best indication of he and StarCom's performance would be looking at their rank in the owner's standings.
The No. 00 car finished 34th in the owner's title. It was the third lowest out of all the full-time teams in the Cup Series. However, StarCom will have a stronger partnership with its engine supplier, ECR Engines.
"I think that we definitely want to improve our owner's points standing by a couple spots," Cassill said. "We're making an engine upgrade and we're going to have some better cars. … We're going to have to see how this new aero package unfolds and how the team improves with our equipment and how well we work together. But I think we can definitely improve our owner's points standings."
In 2018, StarCom leased a charter from Richard Childress Racing. Earlier this week, the team bought that charter from RCR, indicating that it wants to be in the series for the long run.
Cassill doesn't bring any personal sponsorship to the team. He feels fortunate that StarCom is looking for value in a driver for his talent, not his money.
"In this climate in our sport, I think it'd be easy to sell the ride to the highest bidder or whatever driver brings sponsorship or has the best finding," he said. "But StarCom made a choice to put me in the car to be their driver and build the program organically. I think that will yield the best results for them in the long term. People in the sport see that, sponsors see that, and hopefully, it works out for us."
Cassill's crew chief will be Wayne Carroll. Carroll served the role in 12 races for StarCom's No. 99 car this past season. Cassill and Carroll worked together for three races.
Photo: John Harrelson / NKP