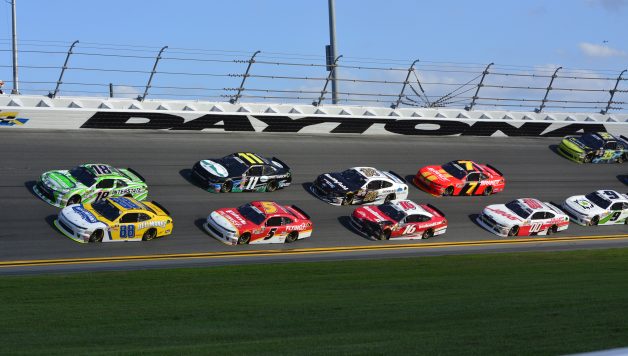 Have questions about where your favorite driver will be next year? Or are you confused about the new rule changes to the championship? We're here to help:
Stewart-Haas Racing (Nos. 00, 98)
SHR will expand to two full-time cars next year in a continued partnership with Biagi-DenBeste Racing.
Cole Custer will return to the No. 00 for a third season, and Chase Briscoe will take over the No. 98.
Briscoe will be a Rookie of the Year contender and be sponsored by Nutri Chomps. The team hasn't decided on a crew chief for the No. 98, yet.
JD Motorsports (Nos. 0, 01, 4, 15)
Vinnie Miller left the No. 01 late last season and is signed with B.J. McLeod for 2019. Ross Chastain will be competing with Chip Ganassi Racing.
Garrett Smithley is likely to return and Blake Koch will drive the No. 4 with sponsorship from FilterTime. No word on a driver for the No. 01 or No. 15 yet. The No. 15 had multiple drivers through the year.
JR Motorsports (Nos. 1, 5, 7, 9)
Noah Gragson will replace Elliott Sadler in the No. 1 and championship-winning crew chief Dave Elenz will serve the role the former Kyle Busch Motorsports truck driver.
Michael Annett and Justin Allgaier will both remain with the team. The No. 9 team could use multiple drivers throughout the season. Dale Earnhardt Jr. might also make another appearance driving the No. 88.
Richard Childress Racing (Nos. 2, 3, 21)
Tyler Reddick just won the Xfinity title with JRM, but he'll compete with RCR next season. He hasn't been assigned a car number, yet. Matt Tifft departs the No. 2 Chevy and will drive for Front Row Motorsports in the Cup Series. The No. 3 car used a few drivers throughout 2018, and it could do the same thing again in '19.
SS Greenlight Racing (Nos. 08, 76?)
Gray Gaulding will drive the No. 08 GGPure.com Chevrolet full-time next year. There has not been a crew chief announcement yet. Spencer Boyd ran the No. 76 full-time this year, but he hasn't revealed any 2019 plans, yet.
B.J. McLeod Motorsports (Nos. 8, 78)
Vinnie Miller will be a full-time driver for the team next year. The second car doesn't have a full-time driver, and it used multiple racers in 2018. Among them were Tommy Joe Martins, Ray Black Jr., Caesar Bacarella, and Stephen Leicht.
Kaulig Racing (No. 11)
Justin Haley graduates from the No. 24 GMS Racing truck to the No. 11 for Matt Kaulig. Ryan Truex drove this car one year and is now searching for a 2019 ride. Haley's contract is reportedly a multi-year deal, according to Jayski.
Team Penske (Nos. 12, 22)
Austin Cindric will be the full-time driver of the No. 22 car. He'll probably show better results driving for the Captain in all 33 events. He switched back-and-forth between Penske and Roush Fenway Racing, and he looked inconsistent throughout the season. But he'll be with the same team every weekend and have guidance from Brian Wilson atop the pit box.
The No. 12 will be the 'all-star' car. The Penske Cup drivers, including Paul Menard, will share this entry on a part-time basis.
MBM Motorsports (Nos. 13, 40, 66)
Carl Long's Xfinity team hasn't announced any plans for the new year yet. Chad Finchum drove the No. 40 most of the year and Timmy Hill was usually in the No. 66. The No. 13 was entered in a few events when Long was racing.
Joe Gibbs Racing (Nos. 18, 19, 20)
Christopher Bell is expected to return to the No. 20. JGR doesn't have a place for him in Cup yet, so he probably gets another shot at the Xfinity title.
Brandon Jones hasn't announced any plans, yet. He drove the No. 19 and was sponsored by Menard's in 2018.
Jeffrey Earnhardt signed a nine-race deal to pilot the No. 18 with sponsorship from Extreme Concepts Inc. When he's not in the car, it'll likely be driven by one of JGR's Cup guys.
GMS Racing (No. 23)
John Hunter Nemechek is expected to drive the No. 23 next year. Frontstretch.com reported this a few weeks ago, but Nemechek said the deal wasn't finalized. Spencer Gallagher has retired from racing but he will continue to be a part of the family-owned organization.
Go Green Racing (No. 35)
Joey Gase drove the No. 35 full-time and shared a shop with SS Greenlight. No word on his 2019 plans yet, but GoFas Racing — also owned by Archie St. Hilaire — needs a driver to replace Matt DiBenedetto. It's possible he could go full-time in the Cup Series.
DGM Racing (Nos. 36, 90)
Alex Labbe drove the No. 36 for Mario Gosselin's team in 2018. He hasn't announced any plans for the new year, yet. The No. 90 was shared by several drivers last season, with Josh Williams and Brandon Brown getting most of the seat time.
RSS Racing (Nos. 38, 39, 93)
Ryan Sieg's team ran three entries in 2018. The Nos. 38 and 93 didn't finish many events, but Sieg completed most races and finished 16th in the driver's standings. His No. 39 is the lead car for RSS, and the other entries usually start-and-parked to claim the prize money.
Chip Ganassi Racing (No. 42)
Ross Chastain will be the full-time driver with sponsorship from DC Solar. He raced three events in the late summer months and won at Las Vegas Motor Speedway. After running with JDM for four years, he'll have a chance to win the Xfinity championship with a Cup-affiliated program.
JP Motorsports (Nos. 45, 55)
JPM was a brand-new team entering 2018. Josh Bilicki ran the No. 45, and Stephen Leicht started out the year in the No. 55. Then he left the team and Brandon Hightower took over. Bayley Currey then drove the car in the final seven races it was able to qualify for.
Jeremy Clements Racing (No. 51)
Wouldn't expect any changes to Clements' team. It's been full-time for eight years and won the 2017 Road America race.
Jimmy Means Racing (No. 52)
David Starr took over this ride after it was Joey Gase's for a few years. He brought sponsorship from Whataburger for a few races. No word on 2019, yet.
Fury Race Cars (No. 61)
FRC is primarily a late model racing team, but it entered Kaz Grala in 12 events after he was released from JGL Racing in May. JGL hasn't returned to the series, but FRC has popped up on the entry list throughout the year. If sponsorship could be solidified, it has the potential to be a competitive team. But its future is still uncertain.
Mike Harmon Racing (No. 74)
The 'Harmonator' entered his car in every 2018 race. It failed to qualify for eight of them. This team might struggle to make races even more in 2019 with the field shrinking to 38 cars.
Brandonbilt Motorsports (No. 86?)
Branonbilt plans to go full-time in 2019, according to Frontstretch. A car number isn't official yet, but the team has historically used No. 86. Brandon Brown said the team has a new facility in Fredrickberg, Virginia and will use two other drivers to split the seat time.
Shepherd Racing Ventures (No. 89)
Morgan Shepherd doesn't seem to have any intentions of retiring. He'll bring his No. 89 to as many tracks as possible next year.
Also worth noting …
Roush Fenway Racing: Closed?
Ty Majeski, who drove the No. 60 in 12 races, told Speed51.com at the Snowball Derby that Roush won't have an Xfinity program next year. Ryan Reed is no longer backed by Lilly Diabetes and he's out of a ride. The No. 60 car had a comically bad season, no matter who was driving it. Roush will focus on its Cup program with Ricky Stenhouse Jr. and Ryan Newman.
38-car fields
The Xfinity field will downsize from 40 to 38 cars in 2019. On paper, NASCAR says it will increase the field's competitiveness. But really, it's just a way to eliminate the start-and-parks. The prize money that would've been given to the 39th and 40th-place finishers will now be distributed to the rest of the field.
The top-33 will qualify based on time. Positions 34-37 will be based on provisionals in the rule book. The 38th position is reserved for a past series champion.
"I think the main reason we're making these changes is for a stronger field with greater competition," John Bobo, NASCAR vice president of racing operations, said in August. "We want to provide the best racing in the world for our fans and we have to monitor and make changes when needed.
"I think one of the great things that we did in looking at these changes is we worked really collaboratively with the teams, the drivers and the tracks to really just provide the strongest race product from all sides of the garage."
Owner's points format changes
The championship format for the owner's title has been changed for the upcoming season.
Team owners can still enter as many cars as they'd like, but only drivers who are running for points in the series can gain playoff points and postseason-securing victories. In other words, Cup drivers aren't able to help a team earn anything that'd help in the owner's title.
For example, if Kyle Busch wins in the No. 18 Xfinity car, that win won't guarantee the JGR car into the owner's playoffs. But if Jeffrey Earnhardt wins in the car, then it'd be eligible for the postseason. This new policy is designed to encourage Xfinity team owners to field cars with Xfinity drivers.
The last two years, the owner's title and driver's title went to two different teams. This is now a more unlikely scenario with the new rules. These rules will be applied to the Truck Series as well.
Photo: Frank Romero