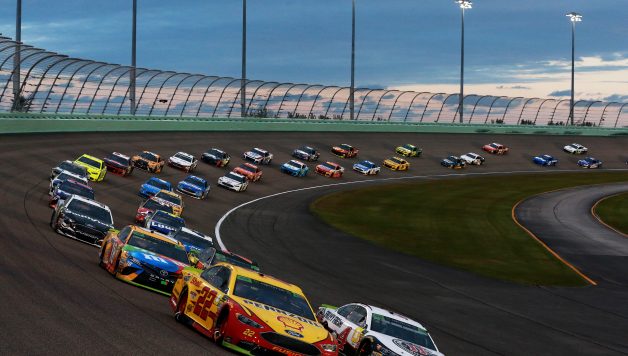 Haverlin: NASCAR's future? Journalism's future? I have more doubt than hope
With the annual NASCAR Cup Series championship banquet in Las Vegas concluding on Thursday night, the 2018 season is officially in the books. Time to start thinking about 2019 and all that's in store for the new year.
All the drivers said it was a great season, and maybe it was from a competition standpoint. There were quite a few memorable finishes, especially in the second half of the year. But from a viewership standpoint, 2018 was another atrocious year for NASCAR. Television ratings continue to hit record lows. Each of the last two seasons, I thought it couldn't get any worse, but I've been proven wrong each time.
That's incredibly alarming. If fewer people are watching NASCAR, then fewer sponsors are willing to invest in the sport. Fewer sponsors mean fewer teams, and fewer teams mean the sport is shrinking.
NASCAR is designed to be television entertainment. Yes, thousands of people to go the races and watch in person, but the fact remains that the sport relies on massive broadcasting contracts to stay alive.
Luckily, Fox and NBC are signed through 2024. But if the ratings and popularity don't start ticking up soon, then the sport is in grave danger.
One of the most prominent figures in American motorsports media lost his job this week. He's highly regarded as the best in the field and he's a role model for the dozens of young reporters, like myself, trying to find their place in the NASCAR media.
But it's become increasingly evident that we have no place. If he can't keep a job, how can I or anyone else expect to even get one? The NASCAR media corps isn't growing, and dozens of respectable journalists have lost their job on the beat over the last few seasons.
I've spent countless days away from home to be working on-site at the racetrack since 2016. It's been expensive, stressful and tiring. Why have I been doing this? Because I believe I can become a reporter with a trustworthy voice who demonstrates the ability to write an intriguing news story.
I still believe in myself, but I'm skeptical about the future of auto racing and journalism. Both are clearly on the decline. The newspaper industry has been dying a slow death for years. When you combine newspapers and auto racing, well, that's just a lose-lose situation.
That's why I've decided that 2019 will be my final year covering NASCAR. I've been a college graduate for nearly two years and I still don't have a career-related job that allows me to support myself. It's time to start going a different direction because I need to move on with my life.
Although the timing might seem to indicate otherwise, this isn't a kneejerk reaction to what happened on Thursday night. I've thought about this for weeks, if not months. I haven't told anyone — not even my family — because I had hope that things would soon turn upward.
But it's clear that things aren't turning upward. NASCAR and journalism are both subjects I care very deeply for, but they're going down a path that I don't want to follow.
I'll spend one more year on the auto racing beat before calling it quits. It's been a grueling job at times, but I've made countless memories and have incredible experiences that most will never get in their life. It's been a privilege to interview the likes of Jimmie Johnson and Fernando Alonso. Scott Dixon and Will Power. Jeff Gordon and Tony Stewart. And countless other racing legends.
I want one more year to soak it all in. And who knows, maybe by this time next year, I'll have a full-time job in racing. It's unlikely, but it's possible. I don't like to be a pessimist, but I'm not counting on it.
There are a few events that I haven't been able to check off my racing bucket list yet. One of them is the Rolex 24-hour IMSA sports car race. I've been told by fans and media that this event is definitely worth attending because of the fantastic driver access and the adrenaline rush from the anticipation of 50-plus cars on the grid getting ready to race before the green flag. Being in Daytona to kick off a new racing year sounds like a kick-ass time.
See you in two months, Daytona. I'm looking forward to 2019.
Photo: Sean Gardner / Getty Images