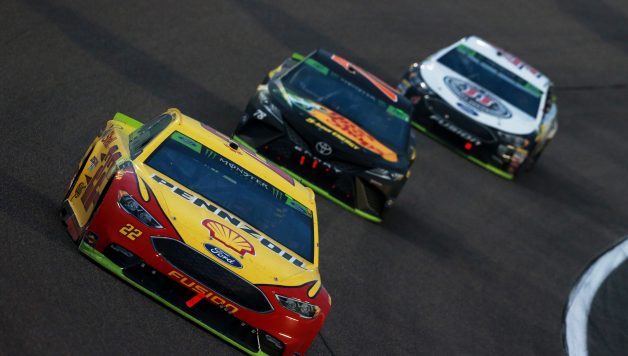 After dismal 2017, Joey Logano trumps 'Big Three' to win NASCAR Cup championship
HOMESTEAD, Fla. — Before the 2018 NASCAR Cup season began, Joey Logano compared his 2017 campaign to a "horror movie."
It all started with an encumbered win at the spring 2017 race at Richmond Raceway. From there, the Team Penske driver just couldn't find anything to make him a weekly contender again. His No. 22 team lost all momentum and failed to make the postseason — a place it has been every year since 2013.
Logano admitted that he thought making the Cup playoffs would be a relatively easy task last year. Entering 2017, he advanced to the championship race in two of the three previous seasons and probably should have been in the 2015 finale as well.
However, Matt Kenseth infamously wrecked him at Martinsville Speedway while he was leading and was knocked out in the Round of 8. The two tangled earlier in the playoffs while Kenseth was leading at Kansas Speedway.
On Sunday, Logano won the Ford EcoBoost 400 at Homestead-Miami Speedway to clinch his first career Cup title. He held off the "Big Three" of Martin Truex Jr., Kyle Busch, and Kevin Harvick, who finished second through fourth, respectively.
"It's good for the company, it's good for [Roger Penske, team owner], it's good for Ford," said teammate Ryan Blaney.
Logano won at Martinsville three weeks ago in a controversial finish where he gave Truex the bump-and-run in the final turn of the race. Truex and the Furniture Row Racing team finished second in Southern Florida to end their final event together.
Did it matter that the No. 78 lost the title to the guy that bumped him to clinch the Homestead berth?
"Not really," said Truex's crew chief Cole Pearn. "I don't think that matters to me. They did a great job. They haven't quite had the speed they had this weekend all year, and credit to them. They went out and earned it. They did a great job.
"I'm just super proud of our effort. Everybody and their brother wanted to write us off and said we couldn't do it. We just proved them all the hell wrong like we did all year. If that's the way the 78's got to go out on a solid race like that, I'm good with it."
Although the "Big Three" dominated the season, Logano didn't feel like he was an underdog. He even called himself the favorite before the Phoenix race last week.
"We proved why we're not," the champion said regarding the "underdog" narrative. "This is the favorite, and I told you that before the race started. … Everyone rose to the occasion; executed under pressure like nobody's business."
Added championship-winning crew chief Todd Gordon: "If you go back to last year, we had a solid top-five here and I think that was the first step to make 2018 a successful year. We took that and we came off with speed to start the year.
"That win at Talladega put us in a position where we were pretty much guaranteed through and the wins stacked up for a couple of drivers. You knew the win would get you there."
Logano's team got hot when it counted. The No. 22 just had the momentum with the Martinsville victory and he led 54 laps the following weekend at Texas Motor Speedway. He scored the most points throughout the playoffs and proved that the "Big Three" weren't invincible.
Part of Logano's success comes from his pit crew. It's regarded as one of the best in the series and it had a flawless night when it mattered most.
"Every individual on that team is the best in their position, and we showed it today," Logano said.
This was Logano's 21st win in the Cup Series. Nineteen of them came with Team Penske.
Also:
This was Team Penske's first time winning the Indianapolis 500 and NASCAR Cup title in the same year. Penske also won its 500th race in 2018 and has the chance to win the Australia Supercars championship with Scott McLaughlin next weekend.
Jamie McMurray, Matt Kenseth, and A.J. Allmendinger may have run their final career Cup race. McMurray was offered a ride by his team owner Chip Ganassi for the 2019 Daytona 500, but he hasn't made a decision yet. Kenseth is likely done for good after returning this year to help Roush Fenway Racing improve its cars. Allmendinger doesn't know what's next. He could be in sports cars next year.
Jimmie Johnson's Lowe's era has ended. Ally Financial will be his primary sponsor in '19 and Chad Knaus will be William Byron's crew chief. Kevin Meedering will graduate from JR Motorsports in the Xfinity Series and sit atop the No. 48 pit box starting in February.
Furniture Row ran its final race on Sunday night. The team failed to find sufficient sponsorship for next year. Truex and Pearn will go to Joe Gibbs Racing's No. 19 Toyota.
Photo: Sean Gardner / Getty Images