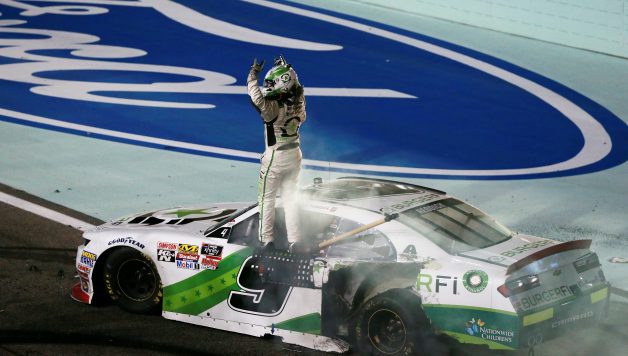 With changes ahead, Tyler Reddick wins Xfinity Series title in only season with JR Motorsports
HOMESTEAD, Fla. — Before Saturday night, Tyler Reddick probably wouldn't be the first name to come to mind when thinking of the 2018 NASCAR Xfinity Series season.
But Reddick, in his first full-time ride with JR Motorsports, won the Ford EcoBoost 300 and the championship at Homestead-Miami Speedway.
Cole Custer dominated the first half of the finale from the pole for Stewart-Haas Racing. He ended up finishing second to Reddick in the race and the driver's title, though.
However, SHR doesn't come away empty-handed; the No. 00 car won the owner's title. It's not what Custer or team co-owner Tony Stewart wanted, but it's still a notable achievement in a series which features many Cup-affiliated teams running cars without full-time drivers.
"It's bittersweet," Stewart said. "We're proud as an organization to win the owner's championship, but we wanted to do it with our driver winning the driver championship."
Reddick short-pitted Custer and inherited the lead in the final quarter of the race. He and championship contender Christopher Bell battled for the lead, but Bell eventually made contact with the outside wall and was relegated to an 11th-place finish.
Bell and JRM driver Justin Allgaier were the top-two Xfinity drivers this year. They combined to earn 12 wins, but Bell and Allgaier ended up fourth and seventh in the standings, respectively.
Reddick said the feeling hasn't sunk in yet. He'll return to the Xfinity Series next year, but it will be with Richard Childress Racing.
Now that he's won an Xfinity title, does he hope that an opportunity to race in the Cup Series is in the future?
"I'm still just trying to celebrate what just happened," Reddick said. "There's fortunately plenty of time in the offseason for any kind of stuff like that. But we'll just see what the future holds. Winning a championship always can help that regard and opportunities at the next level. For now, we're just soaking in the victory of not only winning tonight but the championship."
He'll essentially be in Daniel Hemric's position in '19. Hemric will compete in RCR's No. 31 car in the Cup Series.
Hemric was part of the championship battle, too. He finished fourth in the race and third in the standings. Although he's winless in his NASCAR career, he believes he's ready for the premier level.
"I'm just proud of these guys and the 21 team," Hemric said. "I know we went to battle all year, two years, really. They gave me the opportunity to run solid all year in this series and we made a run at it each year. Now my time moves on and we'll try to win in the Cup Series.
"I feel like all the things I've had to overcome throughout life and through adversity — yeah, the win box isn't checked — but everyone knows we've done everything but win."
What's next? 
Custer will remain in the No. 00 for SHR in the Xfinity Series next year. Stewart said the team will have a second car. There's no word on who will drive it yet, but Chase Briscoe is likely the leading candidate.
Elliott Sadler retired following Saturday's race. Noah Gragson will graduate from the Truck Series and take over his car. Championship winning crew chief Dave Elenz will serve the role for the former Kyle Busch Motorsports driver.
Bell will return to Joe Gibbs Racing's Xfinity program and Allgaier will embark on his fourth season with JRM. JRM plans to have four full-time entries next year. Allgaier, Gragson, Michael Annett will run for the driver's championship. Plans for the fourth car are still unknown.
Photo: Sean Gardner / Getty Images