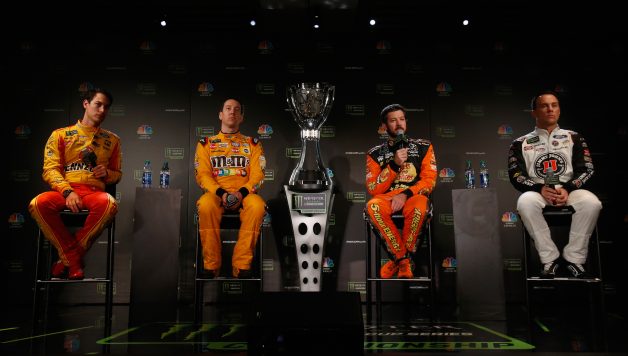 Haverlin's Hot Take: Making a case for each NASCAR Cup championship driver
HOMESTEAD, Fla. — And then there were four.
Joey Logano, Kevin Harvick, Kyle Busch, and Martin Truex Jr. will compete for the NASCAR Cup Series championship at Homestead-Miami Speedway on Sunday.
Aside from Logano, it's the same drivers who made it to Southern Florida as title contenders as last year. Logano's Team Penske teammate Brad Keselowski was the other man who was a part of the final four.
It's the same four organizations vying for the Cup. Once again, it features two Ford and two Toyota drivers.
So who will be hoisting the trophy after the Ford EcoBoost 400? Let's discuss why each driver has a shot:
Logano
Among the four drivers, Logano has the fewest wins this season (two). He's also the only man that hasn't won a championship yet. But he's been one of the best drivers throughout the playoffs.
Other than Richmond and Phoenix, Logano has finished in the top-10 in every postseason race. He won at Martinsville Speedway three weeks ago with a controversial bump-and-run on Truex to steal the checkered flag on the last lap.
Penske cars have been fast all year. Keselowski won three consecutive races less than three months ago and it seemed like his team was peaking at the right time. However, he was eliminated after the Round of 12.
Logano has carried the flag for Penske since then. Although Phoenix wasn't kind to the No. 22 driver, he's had all the momentum since the end of October. He's led 463 laps since Kansas — 72 laps more than the previous 31 races combined.
Logano hasn't won at Homestead in his career, but he has a decent track record. He won the pole in 2012 and led 72 laps in the 2015 race.
Harvick
Harvick has been the fastest driver all year. The raw speed that comes out of his Stewart-Haas Racing Ford when the team unloads is superior to all other drivers, including Busch.
Harvick won at Homestead in 2014, when he earned his first Cup title. Except for 2016, he's been a Championship 4 driver every year since the knock-out playoff format's inception.
If Harvick and his team have a clean race, they'll likely win the championship. But execution has been spotty for the No. 4 team in the past. Fast pit stops and no speeding penalties will make this team the one to beat.
Busch 
Busch has been in the Championship 4 every year since 2015, but he hasn't won a title since then. Busch and Harvick have been, at times, interchangeably 1A and 1B, in terms of speed throughout the year.
Busch won at Phoenix to clinch his spot in the title race. The No. 18 is fast, and the pit team has been strong. If Harvick has any issues throughout Sunday's 400-miler, then expect the Joe Gibbs Racing driver to win championship No. 2. He can outrace Logano and Truex with the pressure of a title bearing down on him.
Truex
With Furniture Row Racing closing up after this weekend, it's easy to say the morale of the No. 78 crew isn't as high as it was last year. In 2017, this team was unstoppable, and it would've been an upset if anyone else won the title.
This year, Truex has been in the shadow of Harvick and Busch. He's had moments of excellence throughout the year, which has elevated him to a part of the "Big Three," but he's been a step behind the No. 4 and No. 18 cars. Truex has four wins compared to Busch and Harvick's eight.
However, FRR's strength has been the 1.5-milers, and this type of racetrack suits Truex the best. He won the Homestead race last year, and there's no reason to doubt his capabilities of repeating. It'd also create a feel-good story for NASCAR. Headlines would read something like: "Truex, FRR ride off into the sunset with championship!" What a tale that would be.
Photo: Chris Trotman / Getty Images