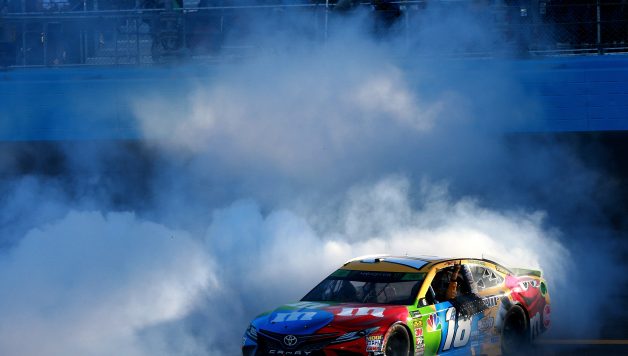 Kyle Busch wins dramatic Phoenix race as four deserving drivers advance to Homestead
AVONDALE, Ariz. — If Kyle Busch hadn't won the Can-Am 500 at ISM Raceway on Sunday, Aric Almirola might've advanced to Homestead as a Championship 4 driver.
Almirola ran second in the closing laps, but was passed by Brad Keselowski and ended up fourth. The first-year Stewart-Haas Racing driver was on older tires and didn't have a good final restart. Once Busch cleared the No. 10, Almirola would've needed another caution to have a chance at taking the lead.
Busch still would've advanced if Almirola won, and it would've meant Kevin Harvick would be eliminated. But Harvick is in the Championship 4 for the fourth time in five years, and he'll have a chance at career title No. 2, despite a dicey opening stage. He suffered a flat tire with two to go and rebounded to finish fifth.
"I felt (the tire) starting to go down in Turn 1 there, and slowed down," Harvick said. "It came at an OK time because it didn't tear the car up. We never really drove as well after that, but we kept ourselves in position all day. Then at the end, with everybody wrecking all over the place, we needed to stay out of trouble and find a safe spot."
Busch's crew chief Adam Stevens knew that if Almirola won, his driver would advance and not have to face Harvick at Homestead-Miami Speedway next weekend.
"We were aware of the situation. We're not oblivious to it," Stevens said. "But there were so many cars that had just pitted and had four tires, and there were 15 or so laps to go. It wasn't like we could freeze the race right there and make that situation happen.
"It wouldn't have upset me if it did happen, but we weren't going to do anything to make it happen."
Busch let the race play out naturally, and beat Almirola. He also said that if he allowed Almirola by, Keselowski could've passed the No. 10 on fresher tires for the lead. Had that happened, Busch's yielding move would have been in vain.
"You always want to go up against the best of the best. The strength of the season has been the top-three guys," Busch said. "This is a good group of four that are going for the championship. You want to race the best of the best.
"It's the best that are there and that we all thought that would make the final four. There was obviously a lot of back-and-forths as to who could have happened with this scenario and that scenario, but lo and behold, it all points to the top-four guys."
SHR only has one driver in the Championship 4. That's disappointing considering the team had four drivers in the Round of 8. Clint Bowyer crashed out from a flat tire. Kurt Busch tangled with Denny Hamlin for the lead on a late restart, and it ruined his chance of winning the race.
"Denny just comes out of nowhere and cleans us out," Kurt Busch said. "Erik Jones was on my inside when we restarted, and I just wanted to make sure I wouldn't slip through [Turns 1 and 2]. … I flat out got cleaned out. I thought it was the right decision on staying out. I'm not going to look back on it."
Everyone in the final four but Logano has won a championship. His controversial pass for the lead on the last lap at Martinsville against Truex allowed the Team Penske driver to reach the championship race for the third time in five years.
Truex enters next Sunday's event as the defending champion. Based on the way the 2018 NASCAR Cup season has played out and the performance of Joe Gibbs Racing and SHR, Kyle Busch and Harvick might be the favorites.
Photo: Sean Gardener / Getty Images