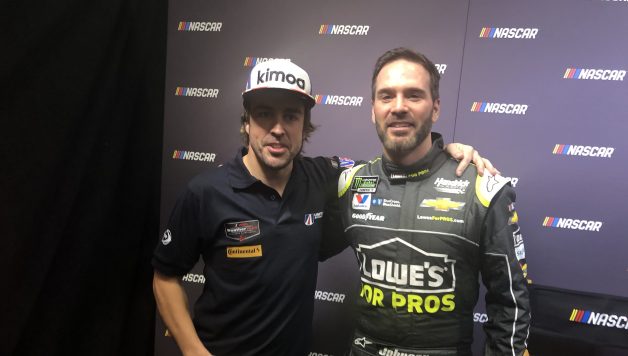 Jimmie Johnson, Fernando Alonso discuss Bahrain ride swap
AVONDALE, Ariz. — Seven-time NASCAR Cup champion Jimmie Johnson and two-time Formula One world champion Fernando Alonso spoke in the ISM Raceway Media Center to discuss their ride swap, which will take place in Bahrain later this month.
ESPN Albuquerque asked the two legendary drivers about the opinions of their colleagues. Johnson said many Cup drivers are jealous of his opportunity to drive the McLaren F1 car.
Fernando Alonso and Jimmie Johnson speak about their excitement to swap rides. (1/2) #nascar #f1 pic.twitter.com/SPhsACGKtn

— John Haverlin (@JohnHaverlin) November 9, 2018
Alonso said that F1 might not be "up-to-date," when compared to NASCAR's championship format. NASCAR utilizes a playoff system that guarantees a champion will be crown on the last race of the year. In F1, Lewis Hamilton has clinched the driver's title with Grands Prix remaining.
… (2/2) Alonso talks about the perception of #nascar from Europe. He says #f1 may "not be up to date" when compared to NASCAR and its playoff system. pic.twitter.com/6rU31yYplE

— John Haverlin (@JohnHaverlin) November 9, 2018
The car swap will take place on Nov. 26. Alan Gustafson will be the crew chief to join Johnson. It will take place the day after Alonso's final career F1 event.
Photo: John Haverlin / ESPN Albuquerque