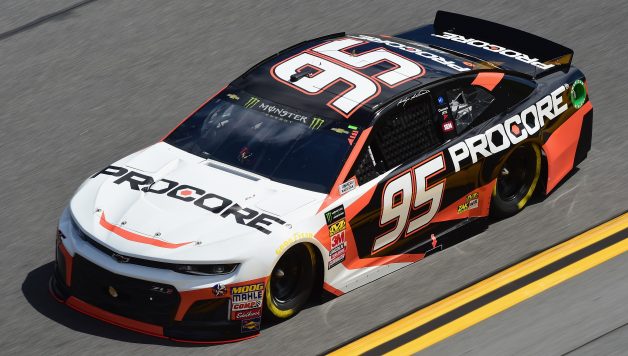 Leavine Family Racing could be the next Furniture Row Racing with Matt DiBenedetto, TRD
Matt DiBenedetto's return to Toyota Racing Development will give Leavine Family Racing the chance to become the next Furniture Row Racing, in terms of success.
DiBenedetto will drive LFR's No. 95 in 2019 as the single-car organization switches from Chevrolet to Toyota. Although it's not an identical move, FRR swapped manufacturers before the 2016 NASCAR Cup season, too.
"It's going to be a process," said TRD president David Wilson. "It isn't the same as the alliance with Furniture Row.
"The cars are going to come from (Joe Gibbs Racing)."
FRR's vehicles have come from JGR since 2016. The Denver-based team uses JGR's equipment to build its cars and has JGR employees on its staff.
However, when the No. 78 car switched to Toyota it was already a frontrunning car in the Cup Series. LFR's No. 95 has been a mid-pack car the last few years. So why has TRD placed its faith in LFR and DiBenedetto?
"Toyota and TRD are very particular in the partners [they choose]," Wilson said. "We've already done it once before, and we won a championship with that kind of alliance."
Obviously, the technical alliance Wilson is referring to is the one with FRR and Martin Truex Jr. But FRR will cease operations after the season, and LFR will essentially take its place as the next JGR/TRD satellite.
Currently, DiBenedetto drives for Go Fas Racing. The Ford team doesn't get the support that other Blue Oval organizations such as Stewart-Haas Racing or Team Penske get. When GFR finishes in the top-20, it's a good day for the No. 32 crew.
In 2009 and '10, DiBenedetto competed in the K&N Pro Series East and the Xfinity Series as a Joe Gibbs Racing development driver. Now he gets to return to Toyota with what he says is "the biggest opportunity of my life."
DiBenedetto announced last month that he would leave GFR without any 2019 plans solidified. He said the decision was a gamble that could have ended his racing career.
"It felt right to bet on myself," DiBenedetto said. "The Toyota camp just can't get away from me, luckily."
LFR probably won't come out of the gate as a leading car next year. Technical alliances take time to adjust. It wouldn't be surprising to see DiBenedetto run in the top-10 regularly and make the 2019 playoffs, but don't expect him to win a championship right away. He hasn't even won a Cup race.
"I've had to fight so hard, the old school way, to get here and that will always make me appreciate this amazing opportunity," DiBenedetto said. "When I got the phone call from Bob (Leavine, team owner) and Jeremy (Lange, LFR's general manager) I was speechless. My wife and I both had tears of joy, and it was a very emotional moment that we will always cherish."
Leavine said the process to switch to Toyota started in March. He also recalled how DiBenedetto began to "bug" him a few years ago asking if he could drive his cars. LFR considered adding a second car to its 2019 lineup, but Leavine confirmed the plan is to stay a one-car team.
The No. 95 started Cup racing in 2011. Early in its tenure, it was a start-and-park with a variety of drivers. In 2016, the team ran its first full schedule with Michael McDowell and Ty Dillon in a partnership with Circle Sport Racing. McDowell was the team's first full-time driver last year, and Kasey Kahne came aboard this year.
Leavine believes this team can contend for wins now that DiBenedetto will be his 2019 driver. Having the TRD support will help the team, too.
"[We're] really only the second team they've taken in," Leavine said, referring to TRD. "Furniture Row was first."
Photo: NASCAR Media