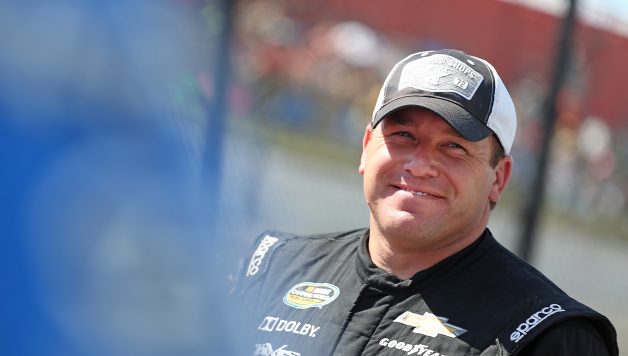 On Saturday, Roush Fenway Racing announced that Ryan Newman will drive the No. 6 Ford in 2019. Matt Kenseth and Trevor Bayne have shared the car this year, but neither will race with RFR next season.
Team president Steve Newmark said he'd like Kenseth to remain with the team in a new role. He noted Kenseth has been "invaluable" in helping the organization improve this year, but at 46, the 2003 Cup champion has no desire to compete for a title again.
With that said, what does the rest of the 2019 Cup field look like? Here's what we know so far:
StarCom Racing
StarCom has leased Richard Childress Racing's No. 27 charter this year and used a variety of drivers in the No. 00 and No. 99. Team co-owner Derrike Cope told the New Mexico Motorsports Report at Watkins Glen that the organization will likely have at least one charter in '19 and wants Landon Cassill to run a handful of races again.
Chip Ganassi Racing
Kyle Larson isn't going anywhere. He's been the team's lead driver the last few seasons. Jamie McMurray won't return to the No. 1 car next year, though. Motorsport.com reported last month that Kurt Busch would bring Monster Energy sponsorship to the No. 1, although CGR or Busch haven't confirmed this. The Associated Press also said that Chip Ganassi offered McMurray a Daytona 500 ride and a new role in the organization.
Team Penske
No significant changes are expected. The team owns three charters, and all of its drivers made the 2018 playoffs.
Richard Childress Racing
Austin Dillon will remain in the No. 3, but the No. 31's future is uncertain. With Newman departing, Daniel Hemric's name has been mentioned as the replacement. Hemric said a few weeks ago that he doesn't have anything lined up for next season yet. It appears he is ready to graduate to the Cup level after spending two years in RCR's Xfinity Series program. Also, RCR will likely sell a charter. There's been no indication that it will run the No. 27 car next year, so it'll need to get rid of one of the three it currently owns.
Stewart-Haas Racing
Kevin Harvick, Clint Bowyer, and Aric Almirola will return. But the No. 41 car has a lot of question marks. Who will sponsor it? Could Daniel Suarez or Christopher Bell ditch Toyota and become Ford drivers? Will Cole Custer be promoted after running two Xfinity seasons? Does the No. 41 even run at all? If nothing comes together for this car, expect SHR to sell the charter and downsize to three entries.
Roush Fenway Racing
Newman will be in the No. 6, and Ricky Stenhouse Jr. will be in the No. 17. RFR sold its No. 16 charter to Penske before the 2018 season, so don't count on a third car coming back to this team.
Hendrick Motorsports
The driver lineup probably won't change, but Jimmie Johnson still hasn't announced a sponsor for next year. Lowe's won't return, but Johnson insists he'll be racing again in '19.
Joe Gibbs Racing
Denny Hamlin, Kyle Busch, and Erik Jones will return. Daniel Suarez would get the boot if Toyota wants Martin Truex Jr. to stay in its cars. Expect Truex to be in the No. 19 car next year.
Germain Racing
Ty Dillon seems happy with his role here. Although the No. 13 car hasn't shown much strength this year, Dillon doesn't want to leave because he thinks he can help this team grow into a contender.
Premium Motorsports
The team has one charter and has used it for Ross Chastain in the No. 15 car most of the year. There's not much else to say about Premium at the moment.
Wood Brothers Racing
Paul Menard is expected back in the No. 21 Ford next year. This team doesn't own a charter but has used Go Fas Racing's charter for 2018. Expect them to be chartered again next year. Whether it reuses Go Fas' remains to be seen.
BK Racing / Bob Jenkins' fourth charter
From a business and financial standpoint, the No. 23 car has been one of the most intriguing subjects of the 2018 season. BK Racing filed for Chapter 11 bankruptcy in February, and last month, Front Row Motorsports owner Bob Jenkins won the auction for this team's assets and charter. FRM currently owns four charters, and it could sell or lease this one out if it doesn't want to run more than two cars.
Go Fas Racing
Matt DiBenedetto won't return. The team isn't sure who will be in the car next year. It has considered running a second car as well. While the Wood Brothers team has used this team's charter, the No. 32 car has run with Joe Falk's charter. Falk owns Circle Sport Racing and wanted to run the No. 33 car as an open team in select events this year, but that never came to fruition.
Front Row Motorsports
Michael McDowell and David Ragan have been running for the team, and it's unknown if either will return yet. FRM has used the No. 34 and an unnumbered charter for its two cars. The No. 38 charter was leased to TriStar Motorsports this year. This team owns four charters, but it doesn't look like FRM is in a position to run four full-time cars.
JTG-Daugherty Racing
A few weeks ago, Hemric and Ryan Preece were thought to be candidates for this team's cars next year. But it appears Chris Buescher will return to the No. 37 car. A.J. Allmendinger signed a contract that is supposed to last through 2020, but multiple reports have said that he won't be in the No. 47 next year. Preece seems to be the frontrunner for the ride, and Allmendinger could be in sports cars in '19.
Richard Petty Motorsports
Darrell Wallace Jr. will return to the No. 43 car. RPM's No. 43 charter was leased to Rick Ware Racing this year, and RPM has used its No. 44 charter for the rookie. Assuming this team remains a one-car organization next year, it must sell a charter. Both the No. 43 and No. 44 charters have been leased within the last two years, and once a charter is leased, it can't be leased again for another five years.
Rick Ware Racing
As mentioned in the previous graf, the team's No. 51 car has used the No. 43 charter this year. This organization, like StarCom, has used a few drivers throughout the season and wants to have a charter again next year. A driver familiar with this team told NMMR that it might run two chartered cars next year.
MBM Motorsports
The No. 66 car has competed in a few 2018 races as an open car. It'll probably stay that way next year. Like almost every other race team around the world, sponsorship and money will dictate its future.
TriStar Motorsports
TriStar has run the No. 72 for two years and leased two different Front Row charters in that span. No word on any 2019 plans, yet. Corey LaJoie and Cole Whitt split seat time this year.
Furniture Row Racing
FRR is shutting down because it couldn't find a new sponsor. 5-Hour Energy is leaving NASCAR.
Leavine Family Racing
Kasey Kahne will retire and the No. 95 team is looking to switch from Chevrolet to Toyota next year. Who will the driver be? Hemric and Suarez have been rumored, but there's nothing set in stone.
Gaunt Brothers Racing
The Gaunt Brothers team raced in most of the Cup season's second half. A few drivers have run the No. 96 Toyota, including D.J. Kennington, Parker Kligerman, and Jeffrey Earnhardt. Team owner Marty Gaunt told NMMR he'll run as many races as he can, but wouldn't say if acquiring a charter is in the realm for '19.
Obaika Racing
Team owner Victor Obaika bought $265,000 worth of equipment from BK Racing and told NMMR he's interested in purchasing a charter. This team hasn't raced in more than a year, but it wants to run full-time in NASCAR's top series soon.
GMS Racing
GMS has established a competitive Xfinity team and desires a place in the Cup field. Team president Mike Beam lost the bidding to FRM when BK Racing was for sale, but that doesn't mean GMS will give up on acquiring a charter and running a Cup car. Spencer Gallagher said he'd be the full-time Cup driver when/if this team races in the Cup Series. He made his Cup debut at Watkins Glen with BK's No. 23 Toyota.
Photo: Matt Sullivan / Getty Images