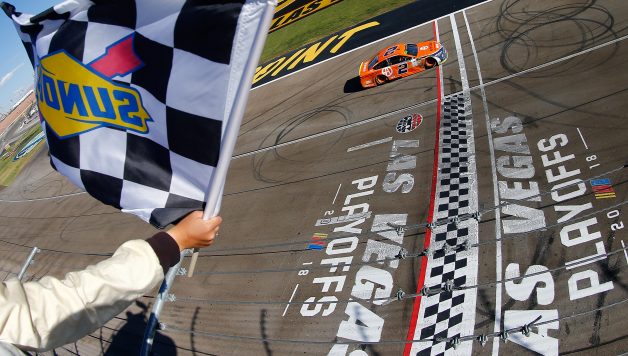 Playoff drivers head to Richmond after feeling the heat in Vegas
By Spencer Hill
Brad Keselowski scored his third consecutive win and captured Team Penske's 500th victory Sunday afternoon at the Las Vegas Motor Speedway.
The blistering hot temperatures in 'Sin City' made for one of the most exciting 1.5-mile playoff races that the Monster Energy NASCAR Cup Series has ever seen. Not every driver, however, could take the heat as multiple championship contenders ran into issues throughout the race.
Tire issues were the second hottest topic of the day with Kyle Larson, Kevin Harvick, and Kyle Busch all experiencing blown Goodyears. The tire failure was believed to be caused by a combination of extreme heat conditions and teams running their air pressures below the suggested minimum.
"I think all of us knew coming into today that this was probably going to be a little bit crazier race because of the high heat and the high temperatures and it was," said super-sub Regan Smith, who finished 12th substituting for the ill Kasey Kahne.
Playoff drivers showed concern with winning but understood the importance of accumulating points and minimizing mistakes in the opening elimination round.
"Obviously I want to win," explained second-place finisher, Kyle Larson. "You need to be mistake-free throughout the whole playoffs so you can't do anything too dumb or too out of the ordinary to ruin your chances (at winning the championship)."
With eight of the 16 playoff drivers finishing 19th or worse on Sunday, the pressure going into the next two weeks at Richmond and Charlotte is elevated for many of these drivers who must now be mistake free in two challenging races.
The points standings for the NASCAR Cup Series looks like this as we head into the Federated Auto Parts 400 at Richmond Raceway: Martin Truex, Jr. (2087), Kyle Busch (-2), Brad Keselowski (-18), Kevin Harvick (-27), Joey Logano (-31), Kurt Busch (-41), Ryan Blaney (-45), Kyle Larson (-46), Aric Almirola (-53), Austin Dillon (-56), Clint Bowyer (-58), Alex Bowman (-59), Jimmie Johnson (-65), Chase Elliott (-68), Erik Jones (-78), Denny Hamlin (-79).
Photo: Jonathon Ferrey / Getty Images