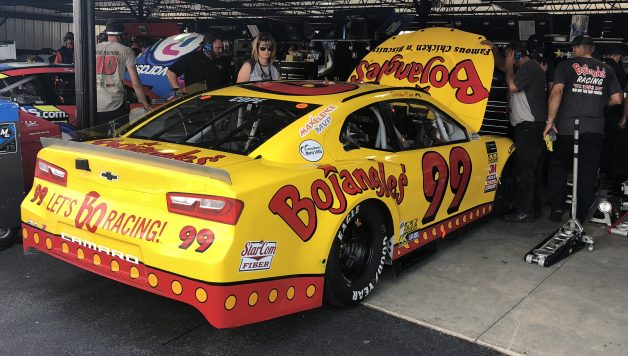 Derrike Cope: Darlington Raceway 'is a true testament of a race track'
Published On August 31, 2018 |
News
DARLINGTON, S.C. — Since his NASCAR Cup Series debut in 1982 at Riverside Raceway, Derrike Cope has been a well-respected driver in the garage. Along with Cope, Darlington Raceway has been a staple of NASCAR history.
Cope spoke with the New Mexico Motorsports Report about the evolution of the famous egg-shaped oval.
"It really hasn't changed a great deal other than being flipped flopped," Cope said. "I came here in '87 for the first time to watch a race, sat in the grandstands … Came here and took my rookie test and ran the race. I've been coming here ever since."
Cope, while singing high praise on his love for the track, made sure to note that Darlington is a great test for a driver.
"It really is a true testament of a race track that hasn't been ruined in any way shape or form. It still has the worn out aspects to it; it's been repaved," he said. "But certainly, the weather conditions and all those things take its toll. To be able to come here and still run a race car around here and going as fast as we do and staying in the confines of the narrow race track that it has always been.
"It truly is, I think a test against your mental capability and your physical capability and just really test you as a race car driver mentally and physically both."
Although it may be the track "Too Tough To Tame," Cope still has a lot of love for the "Lady in Black."
"I love coming here, always have" Cope said. "I think the world of this place.
"I tried to absorb everything I could when it was Southern 500 time. Truly one of the races that I think is a stable fixture that you can't let go of and you got to come here. I'm just glad to see the receptiveness from all the sponsors and television and everything in the local communities as well."
The 1990 Daytona 500 champion will run the No. 99 Bojangles Camaro for StarCom Racing on Sunday night, paying tribute to the No. 98 car he ran in 1993.
Photo: John Haverlin / New Mexico Motorsports Report