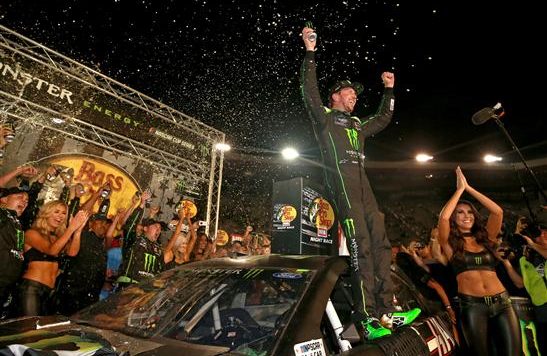 Thoughts from Bristol weekend
When the NASCAR Cup Series races at Bristol Motor Speedway, one can expect drivers to have short tempers and someone named Busch to be victorious.
Both came to pass, although it wasn't Kyle Busch who won on Saturday night. It was his older brother, Kurt, driving the No. 41 Ford for Stewart-Haas Racing.
Kyle Busch: It wasn't meant to be
Last August, Kyle Busch swept the trucks, Xfinity and Cup race at the half-mile track. This year, it was certainly a trip to Tennessee that he'll want to forget.
Busch crashed in both the Xfinity and Cup race this weekend. He started from the pole on Friday night but lost car control on Lap 70.
"Just rubber on top of rubber," Busch said of the accident. "The rubber build up that was happening — I just got into the corner a little too hot and just got up into the fence a little bit and then I don't know, two or three laps later it blew out."
He finished 36th after leading the first 69 laps. Saturday night was even worse, as he was involved in a 15-car pileup on Lap 2 of the Cup race.
"I don't know what it was, it just wasn't meant for us this weekend I guess," said Busch, who finished 20th on Saturday. "You come in here with a vengeance and try to go out there and be able to achieve and succeed and do what you need to do and know what you're capable of doing and what both teams were capable of doing."
Busch was mostly perplexed by his tire issue from Friday's 300-lap race, though. The No. 18 Joe Gibbs Racing car dropped a position in the owner points and is now third, 84 points behind Team Penske's No. 22 car, which leads the championship.
"I don't know why we had a flat tire, why it jumped the cushion – I wasn't really even pushing that hard. The car was really good (Friday), and it got in the wall, and three laps later it had a flat tire."
In the Saturday night race, Busch also spun Martin Truex Jr. Truex was obviously angry about the incident and kicked his damaged racecar on pit road. Truex's girlfriend Sherry Pollex called Kyle Busch a "moron" on Twitter after the wreck.
However, Busch said the wreck was unintentional, and he merely misjudged the space between his and Truex's cars.
The "Big Three" are vulnerable after all
Yes, Truex, Kevin Harvick, and Kyle Busch have been the class of the field all year, but the 500-lap race at Bristol showed that they aren't invincible. Busch and Truex had their issues, but Harvick also had a problem midway through Stage 2.
Harvick reported a vibration and thought he had a loose wheel. He was forced to pit under green conditions and fell off the lead lap. He rebounded to finish 10th, but it was an all-around bad night for the "Big Three." Finishes of 10th, 20th, and 30th aren't the results one would expect from NASCAR's best racers at a place like Bristol.
Could there be a "Big Four" in the making?
Maybe. There will be four championship-eligible drivers at Homestead-Miami Speedway in November. Let's assume Busch, Truex, and Harvick are in; who's the fourth driver?
Earlier this season, Clint Bowyer made an argument that he could be that guy. Outside the "Big Three," he's the only multiple race winner, with victories at Martinsville and Michigan. At Bristol, he led 120 laps and finished fifth.
Perhaps it could be Chase Elliott. His No. 9 Hendrick Motorsports car has found speed this summer after the Chevrolet camp struggled with the new Camaro body. He won his long-awaited first race at Watkins Glen by holding off Truex, the defending winner at the New York road course. Elliott has eight Playoff points and has finished inside the top-10 in five consecutive races.
If not Elliott, it could be the other highly-touted Chevy driver, Kyle Larson. Larson started from the pole and finished second on Saturday night. He clinched a playoff spot via points, and he was considered a favorite for the Championship 4 last year before a disastrous engine failure at the Kansas playoff race eliminated him.
His track record at Homestead is pretty strong, too. He's led 277 laps at the 1.5-miler the last two years and won both stages last year. In the previous three years, he's finished no worse than fifth. Should he make it to the championship race, he'll undoubtedly be a threat for the title.
And most recently, Kurt Busch has made his bid as a "Big Four" contender. SHR has been the best team all year. While Harvick and Bowyer have been at the forefront of SHR-related topics, Busch has been a model of consistency with 15 top-10s and an average finish of 12th this season.
With his sixth career win at Bristol, he's racing for his future. It's unsure where he plans to drive next year, although rumors about him joining Chip Ganassi Racing have floated through the garage for a few days.
And then there were two
Darlington and Indianapolis are the final two events before the NASCAR Cup Playoffs begin. In 24 races, there have been nine winners. The "Big Three" have won two-thirds of the races. To be a championship contender, a driver has to prove he can beat the trio.
Bowyer, Elliott, and Busch have. Joey Logano, Austin Dillon, and Erik Jones won at the restrictor plate events. Denny Hamlin, Brad Keselowski, and Aric Almirola have also been in the mix. With the postseason just three weeks away, it's time to find another gear for a shot at glory in Miami.
DISCLAIMER: Thoughts and opinions reflected are only those of the writer. Follow him on Twitter @JohnHaverlin
Photo: Matt Sullivan / Getty Images