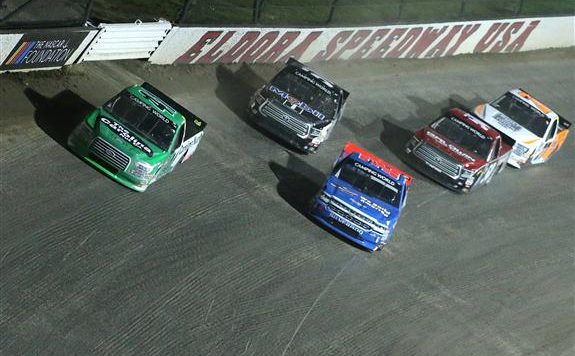 Haverlin's Hot Take: Larson says no to Cup racing on dirt, and he's right
LOUDON, N.H. — Yes, the Eldora Dirt Derby is fun. Let's not get carried away, though.
Once a year, the NASCAR Camping World Truck Series visits the half-mile dirt oval, owned by three-time Cup champion Tony Stewart, and brings NASCAR to its roots with fender-banging, mud-slinging action.
While the event is now considered one of the series' best because of the distinguished entry lists, close racing, and the chance for a no-name driver to instantly become famous with a victory, the business side of the sport would say it's one of the worst places for the trucks to race.
The winner's purse is so small that even the winning team loses money just for entering the race. That's what Kyle Busch, who owns one of the best organizations in the Truck Series, said on NASCAR America earlier this week.
Then one must consider the size of the grandstands. Eldora Speedway can hold 30,000 people. That's not nearly enough to host a Cup event. Also, the roadways that lead to the venue aren't designed to handle the amount of traffic that a Sunday crowd would bring.
Kyle Larson, who grew up racing dirt sprint cars, said the Cup Series should stay on pavement during a press conference at New Hampshire Motor Speedway on Friday. Yes, you read that correctly — SHOULD stay on pavement.
"I'd like to see it stay just as it is," Larson said. "I wouldn't like to see Cup on dirt. To me, Cup belongs on pavement and real road course tracks."
He didn't imply that dirt tracks aren't "real" tracks, but it just wouldn't make sense for NASCAR's premier series to visit such a small venue. Sorry Tony, but the Cup guys aren't visiting your track anytime soon.
So what about other dirt tracks across the country?
"I think Knoxville (Raceway) would probably be able to do it," Larson said.
He said the Iowa track would be the only other half-mile track that could come close to having the adequate resources necessary for bringing a Cup race to dirt.
"You have your dirt miles that you can go to, but I don't think a dirt mile would put on a good race," he said. "It would just end up being a pavement race."
The NASCAR Cup Series probably can't ever return to dirt. The track would be one of two things: too small to fit all the fans, or it'd be too big to put on an entertaining show.
DISCLAIMER: Thoughts and opinions reflected are only those of the writer. Follow him on Twitter @JohnHaverlin
Photo: Matt Sullivan / Getty Images